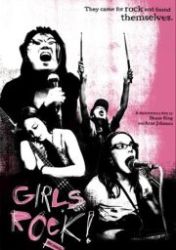 Girls Rock Denver 2012 Camper Showcase
featuring 10 of Denver's newest all-girl bands!
Time: 3:00pm Day: Saturday Doors: 2:00pm Ages: All Ages Price: $5
This Event Has Ended
WHAT: Girls Rock Denver 2012 Camper Showcase featuring 10 of Denver's newest all-girl bands
WHEN: Saturday, July 14th (Doors @ 2pm and Show Promptly @ 3pm)
WHERE: The Oriental Theater, 4335 W 44th Ave. Denver, CO 80212
HOW MUCH: $5 minimum donation, ALL AGES, all proceeds go towards next summer's camp and towards establishing an after school program
About Girls Rock Denver
Girls Rock Denver is an all-volunteer organization dedicated to helping girls find the self-confidence, strength, and communication skills necessary to become leaders in their lives and their communities. 
GRD, a project of the Colorado Nonprofit Development Center & an affiliate of the Girls Rock Camp Alliance, is CO's first nonprofit girls rock camp. In 2012, we are hosting our 4th annual summer day camp open to Colorado girls ages 8-18 regardless of musical or economic background. During camp, girls will receive instrument instruction, form a band, write an original song, and participate in workshops and activities designed to build self-esteem and encourage self-expression. Camp will culminate in a public showcase performance of the girls' songs.
Websites
http://www.girlsrockdenver.org
http://www.girlsrockdenver.bandcamp.com
http://www.twitter.com/girlsrockdenver
Mission
Girls Rock Denver seeks to empower young women and girls by putting instruments in their hands and unveiling what they already possess in their feet, fingertips, vocal cords, hearts, and minds.
We believe:
Girls should be seen and heard.

Potential is not dictated by gender.

In providing girls with a nonjudgmental space in which to be themselves.

In a girl's right to confidence, self-reliance, and courage.

Girls should be encouraged to express themselves with creativity and enthusiasm.

In the power of women and girls learning from each other.