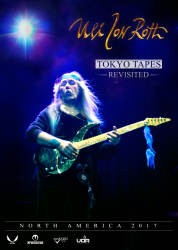 Performing selections from "Tokyo Tapes"
ULI JON ROTH (former SCORPIONS)
with: Michael Morrow and The Culprits
Time: 8:00pm Day: Tuesday Doors: 7:00pm Ages: All Ages with Parent or Guardian 21+ Price: $30
This Event Has Ended
Showtimes
8:00 pm
Michael Morrow and The Culprits
Uli Jon Roth

Uli Jon Roth was born Ulrich Roth in Düsseldorf, Germany, on December 18, 1954. He began playing guitar at age 13 and was performing just two years later. In the early '70s, he joined a band called Dawn Road, which also featured vocalist Klaus Meine. Members of the temporarily in-limbo Scorpions (their guitarist Michael Schenker had just left to join UFO) became interested in Dawn Road's original material, which was largely composed by Roth, and a new Scorpions lineup was formed in 1973 with Roth on lead guitar. Released in 1974, Fly to the Rainbow was their first recording together, but they really hit their stride on the follow-ups, 1975's In Trance and 1976's Virgin Killer, which made them international stars and drew particular acclaim for Roth's soloing abilities. However, musical tensions were evident on 1977's Taken by Force; Roth's epic ambitions began to clash with the straight-up hard rock sensibility of the rest of the band. After a tumultuous world tour, Roth left the group in 1978, following the release of the live double album Tokyo Tapes.

Out on his own, Roth formed a backing band called Electric Sun, which -- in keeping with the classic power trio format -- featured him on lead vocals as well as guitar. Electric Sun made its debut with the Earthquake album in 1979, which was musically somewhat similar to his work with the Scorpions, albeit with more Hendrix influence, generally longer songs, and a slightly hippie-ish vibe. Those tendencies were explored in more detail on the 1981 follow-up, Fire Wind. For the next Electric Sun project, Roth took a left turn into symphonic neo-classical rock, greatly expanding his compositional palette while introducing his new invention, the six-octave Sky Guitar. The result, Beyond the Astral Skies, was released in 1984 and would prove to be the last Roth recording for quite some time; he elected to take a break from recording in order to work in an ambitious new direction.

Much of Roth's writing from the mid-'80s to the mid-'90s was in a classical style, leaving rock & roll behind altogether. For example, the 1991 piece "Aquila Suite" (later issued as part of the three-disc From Here to Eternity package) was a set of 12 etudes composed for solo piano, in the style of the Romantic era. Also in 1991, Roth was tapped by German television to direct the tribute special A Different Side of Jimi Hendrix, which also featured bassist Jack Bruce and drummer Simon Phillips, among many others. In 1993, Roth returned to German television with the Symphonic Rock for Europe special, in which he performed his first rock symphony, "Europa Ex Favilla" (plus several other pieces), backed by the Brussels Symphony Orchestra. Some of those compositions later turned up on Sky of Avalon: Prologue to the Symphonic Legends, Roth's 1996 return to recording, which featured his new backing band Sky of Avalon. Prologue was the first of a projected four related symphonic recordings spotlighting the Sky Guitar. In 1998, Roth played his first straight-ahead rock concerts in quite some time, joining the European leg of the G3 guitar virtuoso package tour with Michael Schenker and Joe Satriani. In 2000, Roth released Transcendental Sky Guitar, a two-CD set of recent live and studio material (including selections from a special 1999 concert in Vienna) that was split into classical and rock-oriented halves.

In 2003, the aptly named Metamorphosis of Vivaldi's Four Seasons saw Roth bring composer Antonio Vivaldi's most famous work into the world of rock-classical fusion, while 2008's Under a Dark Sky marked a return to his Sky of Avalon project. In 2015 he released the double LP Scorpions Revisited, which saw Roth delivering a 19-track set of newly recorded personal favorites from the band's early days. The DVD/Blu-ray Tokyo Tapes Revisited: Live in Japan followed in 2016.
Michael Morrow and The Culprits

Michael Morrow's debut album, Hard Rock Countryfied Blues, is just about as good as it gets.  With his big, red Gretsch guitar in hand, he delivers an old school tone that embodies his rich vocal timbre.  Whether it's the rockabilly fun of 'Had Enough', hard driving 'Gimme' or southern rock sensibility of 'Dirty Little Love Song', fans have come to love his diversity in songwriting.
His 2015 release 'Bad Penny' is a return to a harder rocking style with songs like 'Rock and Roll Ain't Never Paid My Bills' and 'Strange' but still hints of that southern-bluesy style with 'Promise of the Day' and 'Anytime is Alright'...but it's the Thorogood-esque vibe of the title track 'Bad Penny' that gets the crowd a jumpin.  Don't miss Michael Morrow and the Culprits live...they are one of Denver's best! The band features Michael Morrow on Lead Vocals and Guitar...along with Randy Mosman: Bass/Vox, Craig Jahns: Lead Guitar & Tim Elliott on Drums/Vox.