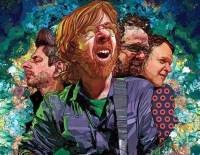 Phish Concert Webcast - FREE EVENT!
Live from Madison Square Gardens - Full Concert...
Time: 5:30pm Day: Sunday Doors: 5:00pm Ages: 18+ / Bar with ID Price: FREE
This Event Has Ended
Phish
Phish is an American rock band that was founded at the University of Vermont in 1983. Known for musical improvisation, extended jams, blending of genres, and a dedicated fan base. The current line-up—guitarist and lead vocalist Trey Anastasio, bassist and vocalist Mike Gordon, drummer and vocalist Jon Fishman, and keyboardist and vocalist Page McConnell- performed together for 15 years before going on hiatus from October 7, 2000 to December 30, 2002. They resumed touring from December 31, 2002 until August 15, 2004, when they announced that the Coventry Festival would be their last show. They reunited in March 2009 for a series of three consecutive concerts played in the Hampton Coliseum in Hampton, Virginia, and have since resumed performing regularly.
Phish's music blends elements of a wide variety of genres,[2] including funk, progressive rock, psychedelic rock, folk, country, jazz, blues, bluegrass, and pop.[1][3] Although the band has received little radio play or mainstream exposure, Phish has developed a large and dedicated following by word of mouth, the exchange of live recordings, and selling over 8 million albums and DVDs in the United States.[4] Rolling Stone stated that the band helped to "...spawn a new wave of bands oriented around group improvisation and extended instrumental grooves".[5]