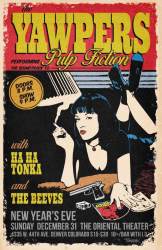 The Yawpers (Performing the "Pulp Fiction" soundtrack!)
w/ Ha Ha Tonka
w/The Beeves
Time: 9:00pm Day: Sunday Doors: 8:00pm Ages: 18+ / Bar with ID Price: $15 - $30
This Event Has Ended
Party Bus Info
Stay safe on NYE by grabbing a ride on The Oriental Theater's Party Bus!
$15 gets you:
Picked up at Illegal Pete's South Broadway location at 8pm, 9pm, or 10pm
Returned to Illegal Pete's South Broadway location at 12:30 or 1:30
A FREE Drink while on the bus!
ALL Party Bus tickets MUST be purchased by noon on 12/31!
The Yawpers

The Yawpers' third album Boy in a Well is a sensational tragedy set in World War I France about a mother abandoning her unwanted newborn child. But, like the band itself, there's so much more roiling beneath the surface.

Recorded in Chicago by Alex Hall (JD McPherson, Pokey LaFarge, The Cactus Blossoms) at Reliable Recordings with production assistance and instrumental contributions from Tommy Stinson (The Replacements, Bash & Pop), Boy in a Well stretches The Yawpers' sound and ambition in challenging, impassioned, and dynamic directions. To follow up their 2015 Bloodshot debut American Man — which Rolling Stone described as mixing "high-brow smarts with down-home stomp" — the trio left the comfort zone of their Denver hometown in September 2016 to record in a city they'd only briefly visited before.

The Yawpers' Boy in a Well is complex; it's a manically conceived, historically situated, emotionally underscored, plot-driven fictive universe. It's demented, unpredictable, taboo, ambitious, and yet distinctively cohesive.


Ha Ha Tonka

Over their history, Ha Ha Tonka has recorded four critically acclaimed albums, toured the world, played Lollapalooza and Austin City Limits, and appeared on Anthony Bourdain's No Reservations. Through it all, these Ozarks natives have made friends, found love, started familes, and grown and matured together. Heart-Shaped Mountain is a reflection of that development and maturity. Once aptly summed as "Indie-Americana, where Alabama meets Arcade Fire, " Ha Ha Tonka has expanded their sonic palette, unveiling balanced, sublime, pop radio accessible heights and an emotionally broader, post-punk songwriting range, a la Apache Relay or a less enigmatic Jonsi, while keeping their trademark harmonizing vocals, jangly Southern revelry and crunchy hooks fully in tact. At it's core, Heart-Shaped Mountain is an album about love and growth. At a time when divisiveness fills the headlines, Ha Ha Tonka is fighting the good fight, building narrative-tributes to friends and loved ones, memories past and prospects of the future.