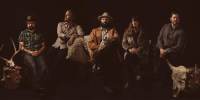 Cosmic Western and Electric Grit night!
Bison Bone
w/ Nate Cook, U.S. Tygers, Tomahawk Fox
Time: 8:00pm Day: Thursday Doors: 7:00pm Ages: 18+ / Bar with ID Price: $10
This Event Has Ended
Showtimes
9:40 pm
Nate Cook (of the Yawpers)
Bison Bone

Bison Bone is a working class cosmic country band from Denver, CO. Roots music coupled with a dark country feel, that give way to a sound blending psychedelic rock and americana splash. They have shared the stage with the Israel Nash, Susto, Corb Lund, American Aquarium, Midnight River Choir, Roses Pawn Shop, Susto, Goodnight Texas and The 4onthefloor.
CPROpenAir: "The record blends southern country with psychedelic and garage rock into a genre that singer and founder Courtney Whitehead dubs "cosmic country."
Westword: "When Whitehead writes about loss, love and resentment, there is a psychological and social awareness that informs the lyrics with an uncommon humanity and compassion that transcends genre. Because of that and the group's innovative sounds and song structures, it is impossible to pigeonhole Bison Bone as just another Americana band."
https://www.cpr.org/news/story/denver-country-band-bison-bone-goes-cosmic-on-debut-lp
Nate Cook (of the Yawpers)

Nate doesn't do too many solo shows, but when he does it's an entertaining spectacle...