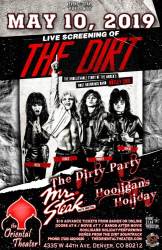 80's Metal Tribute Night
Mr. Steak (80's metal), Hooligan's Holiday (Crue Tribute)
W/ Live Screening of the film The Dirt
Time: 7:00pm Day: Friday Doors: 6:00pm Ages: 18+ / Bar with ID Price: $10
This Event Has Ended
***THE DIRT MOVIE*** Live Movie Screening at The Oriental Theater with Mr. Steak and Hooligans Holiday playing songs from The Dirt Soundtrack!! Friday May 10, 2019 / Doors at 6:00 pm / Ages: 18+ / Bar with ID

The Dirty After Party with Mr. Steak (80's metal) &
Hooligan's Holiday (Crue Tribute)

Price: $10 in advance from bands or online!!
Hooligan's Holiday Originally a NoCo Rock Band playing Motley Crue tunes. Hooligans Holiday started rocking in early 2009 and have opened for national acts such as Faster Pussycat, BANG TANGO, Bulletboys, Firehouse and RATT. They have since toured Texas and are now back in Colorado with thier Motley Crue Tribute playing songs from "The Dirt" soundtrack and looking forward to rocking with you!
Mr. Steak Colorado's own 80's Hair Metal Band features an All Star Cast of Denver talent: Beef Stixx - Vocals, Jay Quintana of Straight Six Sir Beef Swellington - Bass, Joe Sego of Grind Cat Grind Short Rib - Guitar, Scott Anthony Kennedy of Danksta Beef Strokinoff - Guitar, Philo Sudberry of MotaHead Kilbosa - Keyboard, Trevor Huster from the Knot Rock Sir Loins Mignot - Drums, Dave Klein from Open Fire