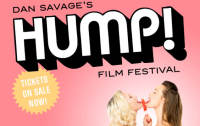 Dan Savage Presents
14th Annual Hump Film Festival
Time: 7:00pm Day: Friday Doors: 6:00pm Ages: 18+ / Bar with ID Price: $20

PLEASE NOTE:  Verify the Date & Time you are purchasing tickets for BEFORE completing your order.  All Sales Are Final
14th Annual Hump Film Festival 
Show start time: 7:00pm & 9:30pm both night 
The HUMP! Film Festival has been bringing audiences a new kind of porn since 2005. The festival features short dirty movies—each less than five minutes—all created by people who aren't porn stars but want to be one for a weekend. The filmmakers and stars show us what they think is hot and sexy, creative and kinky, their ultimate turn-ons and their craziest fantasies. Our carefully curated program is a cornucopia of body types, shapes, ages, colors, sexualities, genders, kinks, and fetishes—all united by a shared spirit of sex-positivity. HUMP! is a celebration of creative sexual expression. You will see films at HUMP! that shock you. You will see films at HUMP! that make you laugh. And you will see films at HUMP! that turn you on. You will also be touched by the sincerity and vulnerability with which these films are lovingly made. HUMP!'s main mission is to change the way America sees—and makes and shares—porn.
14th Annual HUMP! Film Festival Films!
This gang buys a few gallons of paint. With apologies to their landlord.

As two lovers stream through each other's bodies and consciousness, orgasmic hallucinations bloom through their synchronized minds.

A horny Boy Scout goes on a nighttime hike in the woods. Inspired by the gay erotic film 'Pink Narcissus'.

This kinky couple connects for a midday power boost. Sometimes it's watching home movies together that leaves you the most satisfied!

This couple has a different way of looking at love and sex, elegantly conveyed through our shared, human experience.

My Cathartic Release - WINNER, BEST KINK

Take a peek into one woman's masochistic journey to find a sweet sweet release.

An obedient sub takes the term "Dirty Boy" to a whole new level. Chatting online can get messy.

Your favorite middle school game has turned into a big basement bang fest. You can almost hear the parents yelling, "What's going on down there?"

In this stylish BDSM film, a couple returns home after a night on the town to explore the arts of dominance and submission. This female lead takes control of her kink by initiating her punishment by being a brat and misbehaving.

Porn Yesterday - WINNER, JURY AWARD

A look at how terrible adults were at hiding porn and how good we were at finding it.

Whatever Floats Your Goat - RUNNER UP, BEST HUMOR

It's never a dull day in the dairy room, but when a strange new breed of goat shows up this morning, our milkmaid will have to work extra hard to get that milk!

Please - RUNNER UP, BEST SEX

Consent is sexy. Here's the proof. A deep exploration of rough sex.

Troughman - WINNER, BEST HUMOR

A man tries to build up the courage to ask another man to piss on him in the Leather Stallion restroom trough.

A real-life couple boldly bring the audience into the most intimate parts of their lives, sharing with the camera how the couple fell in love, what about their partner turns them on, and how they first met.

Coming home from work for lunch, a boyfriend finds something even more delicious.
to fill up on.

The Wheel of Fortune - RUNNER UP, BEST KINK

Five strangers are bound by flesh and metal. Only their release can set them free.

Extreme Wild Fuck… - WINNER, BEST SEX

"Extreme Wild Fuck with Petite GF - Amateur Couple Mountain Top Fuck Fest." When you set out for a hike, you never know what you'll "come" across on top of the mountain.

Hotel. Night. While everyone is asleep, the cursed creep is out, as hungry as ever. Infrared cameras, outdoor exhibition and sloppy hole.

Put on your spectacles, open your lids, and lend us your gaze. You'll want to ogle this cornea copia of optical illusions and private eyes!

All of Us explores the multidimensional story of two lovers sexual and emotional relationship expressing their passions for pain and pleasure in sweet soliloquies.

Around the World in 80 Lays - WINNER, BEST IN SHOW

A young couple stuck in a sexual rut decides to explore Planet Earth AND BEYOND! Sometimes the greatest sexual journeys require frequent flyer miles.
Showtimes
7:00 pm
HUMP! Film Festival