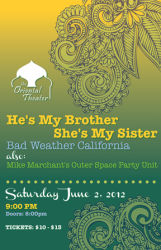 Urban Dispensary & Radio 1190 presents:
He's My Brother She's My Sister w/ Bad Weather California
also: Mike Marchant's Outer Space Party Unit (w/ Andy Hamilton)
Time: 9:00pm Day: Saturday Doors: 8:00pm Ages: 18+ / Bar with ID Price: $10
This Event Has Ended
Showtimes
11:45 pm
Bad Weather California
10:15 pm
He's My Brother She's My Sister
9:00 pm
Mike Marchant's Outer Space Party Unit
Bad Weather California
THIS ISN'T NEXT LEVEL MUSIC. THIS IS STREET LEVEL MUSIC.
"Great rehearsal guys! You guys remind me of the Grateful Dead!"
This is how Daniel Johnston described Denver's Bad Weather California after their first rehearsal as his backing band. They weren't sure what to make of Daniel's comment. Was that a compliment or an insult?
Adam (guitars) finally got the nerve to ask, "So Daniel… Do you like the Grateful Dead?"
"Oh yeah! I love the Dead! I used to go see them in Texas all the time. There were so many people dancing!"
But NO. Here's how we see it:
A punk band that doesn't sound like one. A sound track to a made up movie about the summer you spent skateboarding, discovering drugs, going to the beach, falling in love... This is American music. Drawing on The Velvet Underground, John Lennon / Plastic Ono Band to the Minutemen and Black Flag, Bad Weather California is both timeless and classic yet forward-thinking and modern.
"The songs should write themselves. The performances should look easy… As a kid, I used to have this intense nervous feeling when I would go watch punk bands play. Like anything might go down. Like it was unstable. I'm looking for that again. Striving for it," explains guitarist/singer Chris BWC
 (As written by Chris Swanson at Secretly Canadian/ St. Ives Records)(He said it not us!)
"Bad Weather California -- the minute-men of the 2010s -- are taking misfit culture back to the streets. A working class band that's clearly in it for life,"
In this fast paced world of cyber-culture, where bands have a shelf life of about as many months as they have paid the publicist for, Bad Weather California carry on in the spirit of earlier, punk legends that paved the way and inspired us all so many years ago.
He's My Brother She's My Sister
If you have yet to catch He's My Brother She's My Sister live, come see why they have been called "delightfully original" (Indieshuffle) and "forward thinking folkies forging new ground"(New Times).
He's My Brother She's My Sister is like a time warp to the golden present, wrapping nostalgia around the here and now with throwback flair and good taste. They make debauchery and estrangement so glamorous. The songs are as catchy as a radio pop jam, but throw off the trappings of plastic pop and wrap you in fur, folk, and the last drops of moonlight. (LA Record, February 24, 2010)
[Their] voices mingle like glamour in the desert" and serve up "party music for coyotes drunk on champagne," (LA Weekly).
"Their mojo (has) the power to heal the afflicted" (LA Deli Magazine).
Mike Marchant's Outer Space Party Unit

This Mike Marchant  (Widowers, Houses) project, which has been described as "countrified space rock" "psychedelic power pop" &  "fiery psych-folk" (Tom -Murphy -Westword) will include Mike's long-time "Houses"

collaborator

 Andy Hamilton -along with the usual OSPU members (Mark Weaver & Fernando Guzman). The band will be debuting some new material for this for this evening's show adding to an already stellar night of music...