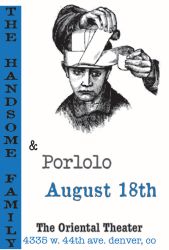 The Handsome Family
w/ Esme Patterson (from Paper Bird) / The Changing Colors
Time: 9:00pm Day: Saturday Doors: 8:00pm Ages: 18+ / Bar with ID Price: $10
This Event Has Ended
Showtimes
11:00 pm
The Handsome Family
10:00 pm
The Changing Colors
The Handsome Family
The Handsome Family write songs that are full of an awed sense of emotion in the face of nature's mysterious beauty. Taking place under bowed branches and deep within winding corn mazes, The Handsome Family's 2009 release, "Honey Moon" is an album of transcendence, of touching the divine, if only for a moment, through our love of someone else, even if it's a praying mantis or a sleeping bird. Their music holds echoes of Americana in the truest sense— from medieval ballad to Appalachian holler to Tin Pan Alley and punk rock.
More recently (2010) the band has released "Scattered" a collection of lost demos and orphaned songs and odd covers that includes material culled from their entire 15 year career. The twosome's seventh CD, "Last Days of Wonder" (June 2006), was one of Mojo's Top Ten American Albums for 2006 and was called "an unqualified triumph" by Uncut. Their fourth album, "In the Air" was listed as one of the most important records of the first decade of the 21st century by Uncut. In 2004, a reader's poll in Mojo named The Handsome Family's third CD, "Through the Trees" one of the ten essential Americana records. UK national newspaper, "The Guardian" listed their song "Weightless Again" as one of the 100 best songs about Heartbreak.
Their songs have been covered by many artists, most notably: Andrew Bird, Christy Moore, Jeff Tweedy and Cerys Matthews. They have appeared in the movie, I'm Your Man (2005), a tribute to Leonard Cohen as well as Searching for the Wrong-Eyed Jesus (2004). The Handsome Family record all their songs in a converted garage studio at the back of their house in Albuquerque, New Mexico, USA.
A recent live review (by Mike Ritchie) noted, "There's a lot of smiling at this gig, on and off stage. That might surprise many people who have only read about the duo's penchant for songs riddled with darkness, death and the macabre. But Rennie Sparks and her husband, Brett are funny live...through their chit-chat, the song introductions and the banter with the audience...this sell-out show was a knockabout celebration of the deadpan, a real joy... Rennie's words plus Brett's music and strong, mellow vocals create a magical potion of grim fairytales in a rock and blues pot with grinning unavoidable.
The Changing Colors

The tiny hamlet of Manitou Springs, Colorado sits just below the soaring heights of Pikes Peak. A place frequented by thousands of tourists each year, it is a mecca for flatlanders and southerners longing for the cool mountain air and the remarkable views. It is also a haven for gifted songwriters and musicians. Among the most capable of these writers is Conor Bourgal, who along with his twin brother, Ian, and an interchangeable ensemble of musicians, form a group called the Changing Colors.They are a band that sings of longing and beauty, hope and regret. Their latest album, Ghost of Red Mountain takes its entire theme from the legendary story of Manitou resident Emma Crawford. Sometime in the early 1900's Crawford's coffin was washed down onto Main Street from it's perch above town on Red Mountain. The story is the source of Manitou's biggest festival – the internationally renowned Emma Crawford Coffin Races held each Halloween. Bourgal chose to look beyond the gothic story and to bring a hardscrabble pioneer woman's life to light.