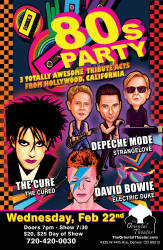 The Internationally Famous Tour...
80's New Wave Festival
Featuring: Strangelove (Depeche Mode Tribute), The Cured (The Cure Tribute), Electric Duke (David Bowie Tribute)
Time: 8:00pm Day: Wednesday Doors: 7:00pm Ages: All Ages with Parent or Guardian 21+ Price: $20
This Event Has Ended
Strangelove

STRANGELOVE is:

Freddie Morales as "Devotional Dave"– lead vocals, visuals, lighting design, sequencing
Brent Meyer as "Counterfeit Martin"– music director, keyboards, vocals, guitar, melodic, sequencing, percussion
David Sepe as "Alan Wildest" - keyboards, sequencing, backing vocals, percussion
Jim Evans " InTheFletch" - keyboards, sequencing, backing vocals, percussion

The scale of STRANGELOVE's theatrical stage production is unparalleled, save for the real article. Multiple projection visual programs assault the euphoric concertgoer's senses and further the illusion that they are witnessing an actual Depeche Mode concert.

No detail of the band's presentation has been overlooked. The visual presentation and in-show costume changes reflect different eras of D'Mode's decades-spanning career. Audience members can revel in the seemingly impossible unfolding before their eyes and unbelieving ears. STRANGELOVE delivers a career spanning, pitch perfect "best of" concert that transports the listener through time and touches on several key points in Depeche Mode's illustrious career. Songs from throughout the Depeche canon are lovingly recreated; from favorites on DM's debut Speak and Spell to the newest fare from Mode's latest- 2009's Sounds of the Universe.

These men have a reverence and devotion to Depeche Mode and their body of work that has driven them to recreate every possible detail and bring the "Music To The Masses" in a concert setting that often feels more like a shared communal glorious fan club celebration of yesteryear, and a reliving of youth. Accuracy and authenticity is a hallmark of the group, with the band employing as many authentic vintage synthesizers and archaic samplers as possible.

Freddie Morales – "Devotional Dave"- A Los Angeles-based DJ, producer and vocalist, Freddie has wielded his versatile musical talents working on numerous collaboration projects and for major record labels; production coordinating for Universal Music, MCA Records, Sony Music. In the mid '90s he hosted a show for Groove Radio 103.1 FM in Los Angeles, an experience that opened many doors and opportunities for Morales. He started producing and showcasing live collaboration projects like Proyecto FM, Audio X , and finally Desvio, a Spanish style electronic band with heavy Depeche Mode influences that was signed to a major label and did extensive touring. He brings these collective experiences to the present day by charismatically fronting STRANGELOVE. Nearly fifteen years of professional involvement in the dance scene have given Freddie a unique perspective on what it takes to create a lasting impression as a musician, singer, producer, promoter and performer. His emulation of David Gahan's velvet baritone is uncanny and he also delivers the matching stage mannerisms and sexy swagger to further transport the audience. Bringing an ever-shifting dynamic to the stage, Freddie is well on track to expose thousands of fans to the ecstasy of a live Depeche Mode experience with STRANGELOVE: a DEPECHE MODE live tribute.

Brent Meyer- "Counterfeit Martin"- Perhaps guilty of a little too earnestly impersonating Martin L. Gore, Brent is a true devotee of Depeche Mode and has, with his (Depeche Mode influenced) original electro rock band FOLIO, been signed to a record label and toured the country, been on MTV, the radio and not quite become a household name. Most recently, FOLIO was planning to record a new album in London with none other than longtime Depeche Mode (as well as Interpol, Erasure, etc.) producer Gareth Jones committed to helm the project, before the band's record label crumbled. Brent is also a classically trained operatic baritone vocalist as well as a record producer (most recently producing a Henry Rollins track), multi-instrumentalist, symphonic composer and music director for several projects. He's also worked as VP at record labels, in management for platinum acts, and also runs America's premier tribute band talent agency, Music Zirconia. Brent's role as music director for STRANGELOVE has him wearing many hats, including much work behind the scenes in the recording studio, in the service of bringing STRANGELOVE to audiences worldwide.
David Sepe- "Alan Wildest"- Arguably, the biggest "Modie" in the band with 12 DM shows to his credit. Starting with the March '85 Palladium show in support of Some Great Reward, the iconic 1988 Rose Bowl 101 show, and most recently, at the Hollywood Bowl during the 2009 SOTU tour. In between the various DM tours and shows, David has earned a BA in History from CSULB and a Masters degree in Education and Technology from Pepperdine University. David spends his daylight hours as a history teacher. After doing his part to defend the rule of reason and law within our Republic during the day, David ascends into his "MIDI Realm" studio at night and becomes a song writing, sequence-editing, synth tweaking, and sound designing tech-head. Also, David has his own electro/experimental solo recording project, The Phylum Chordata. Currently, the second TPC CD is available commercially and the third album is almost completed. David's devotion to Depeche Mode's music and his subsequent love of synthesizers, programming, and the creative process as a whole is evidenced in his authentic portrayal of Alan Wilder.

Jim Evans- "In The Fletch" - Jim is a welcome, though not recent, addition into the Strangelove fold. His association withthe band started as the group's stage manager! He's an invaluable asset in helping to recreate the live keyboard parts and vocals performed during Depeche Mode's concerts with passion, intensity and showmanship.

With over 120 million records sold and a rabid international fan base, Depeche Mode's career spans three decades and shows no signs of slowing down. Their enormous fan base encompasses all ages and crosses every demographic. STRANGELOVE brings a fun and staggeringly authentic Depeche Mode experience to your event, venue, or festival.
MODE ON!
The Cured

The Cured is a Southern California based realistic rendition of the 80's super band The Cure. The band performs a true to era 1989 Cure concert complete with costumes, lights, effects and of course the songs. The show was a hit from its first performance in late 2005. Word spread rapidly that The Cured was exceptional amongst the many tribute bands performing today. Almost immediately The Cured was playing in the largest and hippest club venues in San Diego , Orange County , Los Angeles and Hollywood . Soon clubs from outside of California had heard about The Cured and were flying the band in to play sell-out shows with attendances well over 1000 people at each show. The band recently sold out House of Blues largest venue (4 th & B in San Diego ) with an attendance of 1637.
The Cured has now made the transition from being a Southern California band to becoming a national act. The Cured readily attributes their success to the band they emulate….The Cure and the millions of rabidly loyal Cure fans out there. 
Out of all the bands that emerged in the immediate aftermath of punk rock in the late '70s, the Cure was one of the most enduring and popular. The Cure became iconic in the MTV days of the 80's and is still one of the most beloved bands of the era. The Cure is not only enjoyed by those who lived through the 1980s, but has become a cult phenomenon amongst the college youth of today as well.
Electric Duke

Formed in Los Angeles in 2014, "Electric Duke" A David Bowie Odyssey" is the most decorated U.S. David Bowie Tribute act working today!  With a live show like no other, the band- Julian Shah-Tayler, John Rogers, Steve Abagon, Scott Bassman and Charlie Nice bring to the stage an exact re-creation of Ziggy Stardust and the Spiders From Mars.  The live show is spot on and one that you will not soon forget!