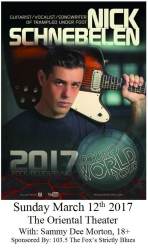 Sponsored By: 103.5 The Fox's Stricly Blues
NICK SCHNEBELEN (of "Trampled Under Foot")
with: Sammy Dee Morton ($20 day of show)
Time: 8:00pm Day: Sunday Doors: 7:30pm Ages: 18+ / Bar with ID Price: $16
This Event Has Ended
Sammy Dee Morton
Sammy Dee Morton has played Louisiana and Texas style Blues for 25 years. His smooth, soulful and energetic way of playing has captured many an ear. Sammy Dee developed his chops playing alongside Blues and Cajun performers such as: Kenny Neal, Debbie Davies, Tab Benoit, and Doug Kershaw. He has appeared on multiple recordings, including his latest, Business Is Business and Sammy Dee LIVE, which was recorded at the Boulder Theater while opening for Robert Cray. In 2010, Sammy Dee's song, Strat Struttin' was released on Guitar Masters Vol. 3 & 4:  Les Paul Dedication, BHP Music, Ltd. In 2005, Sammy was deemed an "Honorary Louisiana Bluesman" by the Louisiana Music Commission.
In the 70's, Sammy Dee managed a recording studio and used his off hours to further develop his musical talents. His goal was to create his own style. Over the years, Sammy discovered his longing to master the Blues. In the 80's, he played 6 years in a shag band in South Carolina and this helped to develop his strong command for rhythm. Later on in his life, while touring with Doug Kershaw (the Rajin Cajun), Sammy found himself at the New Orleans Jazz Fest opening for greats like Al Green and B.B. King and at Austin Texas, Steppenwolf. Sammy Dee spent five and a half years touring with Doug in the U.S., Canada and overseas. Also, he spent a while living in Louisiana near New Orleans and played with several special musicians which added more influence to his playing style. In 2004, he released his first all original album, Redheaded Stepchild which is available worldwide.

In 2005, Sammy Dee toured coast-to-coast on his Red White and Blues Tour in support of the album. And while on tour at his show in Hammond, Louisiana, was awarded by Official Louisiana State Decree as an "Honorary Louisiana Bluesman", a rare and respected recognition. Sammy Dee Morton believes in the immortal words of the great Albert Collins, "let your influences shine through". With a life steeped in the traditions of blues and a stunning style all his own, Sammy Dee is sure to please Blues fans young and old.
Nick Schnebelen

NOTE: TICKETS ARE $20.00 DAY OF SHOW...$20.00...plus fees
Nick Schnebelen has quickly built a reputation as killer lead guitar player and impassioned vocalist. As founding member of the award winning popular family band Trampled Under Foot ( TUF), Nick has traveled the world playing festivals such as Notodden, Montreal, and as fan favorites on the annual Legendary Blues Cruise. Today Nick performs with his own band, as does his sister Danielle, and brother Kris. The siblings still perform a few re-union shows as Trampled Under Foot. Now, Nick Schnebelen continues to tour world-wide, bringing his raw blues energy guitar and vocals, backed by a hot rock n blues band. .
Music Industry agrees: In 2008 Trampled Under Foot (TUF) won the International Blues Competition and Nick won The Albert King Award for "Best Guitarist". Shortly thereafter Nick and his family band TUF recorded two great blues releases with Tony Braunagel producing ( Taj Mahal, Robert Cray): "Wrong side of Blues" and "Badlands" and the latter debuted #1 on Billboard and won "Best Contemporary Blues Album at the Blues Music Awards in 2014. Today, Nick is again working with Tony Braunagel for Nick's next album to be released in 2017. "It's great to be working with Tony again. I am currently writing new songs for this release. It's going to be a blast recording in LA".
Nick Schnebelen has blues in his blood. Nick and siblings grew up with their parents who played music full time in the Kansas City blues scene. Their house often became a jam space for their parents Lisa Swedlund and Robert Schnebelen's popular blues band, Little Eva & The Works. Today Nick continues that tradition with the blues as he travels world-wide with his own band. Look for even greater success for Nick in the coming months.