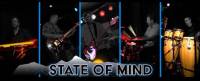 State Of Mind
with: 30,000 Days and Past of Ashes
Time: 7:30pm Day: Friday Doors: 7:00pm Ages: All Ages with Parent or Guardian 21+ Price: $12
This Event Has Ended
State Of Mind

Operating in the sun and shadows of the Rocky Mountains, Denver, Colorado's State of Mind is made up of five longtime friends who have been playing music together since Michael Keaton was Batman. The band has a wide array of personal styles and influences ranging from jazz and Americana to rock and metal. State of Mind combines guitars, keys, bass, drums and a "city" of percussion to create a rare blend of alternative rock and pop, with hints of Latin and funk and an overall rhythmic drive. Cutting their teeth in the Denver scene for over 20 years, the group's latest offering has been self-branded "Altitude Rock" in homage to living life at 5280 feet above sea level. They released their EP of the same name in late 2016. Sometimes pensive, airy and atmospheric, other times poppy and pulsing, State of Mind's music delivers a "thinking person's" vibe that is always provocative and captivating.
30,000 Days

30,000 Days was formed in 2014 in Denver, Colorado with goal of writing and performing classic rock-n-roll music. The music is old school, related (perhaps a cousin) to the rock music streaming out of our car windows and up and down the streets of our teenage years. Loud guitars, hard hitting rhythms, and most of all melodic hooks that stay in your head, long after the songs have stopped give 30,000 Days enough energy to power a fighter jet. It's a fuel that burns full-throttle, ignited by the heat of soulful voices with the power and passion of live performance.
 
Though all members sing, it is the unique interaction and entwinement of Lars' and Tracey's voices that produce those powerful and unique 30,000 Days melodies and harmonies that grab you and don't let go.
 
While the songs rock, they are also foot tapping, dance able, accessible songs that you could, (and should) easily hear on your favorite radio station.
 
The name of the band is based on an estimate of the average human life. It is reflection of the journey and the path that we are all on, and the stark realization that we all have a limited time.
 
Lars writes simple songs about complex things: love, family, home. Phrases turn, emotions connect, melodies soar. You sing along even though you've never heard the tune before. There is a sublime perspective of distances, of interludes between lovers and lives, and the roads that lead on our life's journeys. There is an existence in time, and fulfillment of each of our precious days...30,000 Days.  The band members are: Lars - Vocals, guitar & Keyboards, Tracey Allen - Vocals & Keyboards, Joe Coy - Drums & vocals and Ken Allen an Bass Guitar. 
Past of Ashes

Past of Ashes...is a Rock outfit hailing from Aurora, Colorado.  The band melds many elements of music that have influenced them as song writers and as musicians along the way.  Leaning toward Progressive Rock, while combining elements of Melodic and Soft Rock...Past of Ashes are one of Denver's up and coming acts to be be reckoned with. The band consists of Danny LeSuer - Lead & Rhythm Guitar, Sarah Monroe - Vocals & Bass and Justin Riss on Drums.