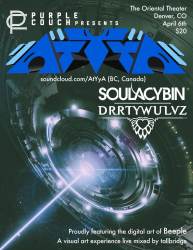 Purple Couch Presents:
AtYyA
with Soulacybin & DRRTYWULVZ
Time: 10:00pm Day: Thursday Doors: 9:00pm Ages: 18+ / Bar with ID Price: $20
This Event Has Ended
"AtYyA" pronounced [ Ah-Tie-Ah ] is the fruition & birth of countless musical explorations. His music features 432hz tuning, binaural beats, deep alluring basslines, 808 inspired drum kits, organic percussion, heart touching melodies & futuristic ambiance that synergistically breathes & merges into endlessly unfolding sonic fractals. The Music of AtYyA inspires powerful somatic journeys into the depths of the heart, connecting us to the furthest reaches of the universe and beyond… "

DRRTYWULVZ (Street Ritual) 
soundcloud.com/DRRTYWULVZ

DRRTYWULVZ recently released his first full length album, Ah Yes, on Street Ritual. An awe-inspiring 11-track masterpiece emerges into surface filled with deep bass which fluctuates through mind melting dubs, electrifying glitch grooves, and trickling melodies. Psychedelia, enigma, and synthesizer metamorphosis dominates the feel of this journey as each texture encapsulates a sound so fresh, organic, and imaginative. It flows through a flare found through a forest of fractalizing waves and lush greens. Prepare for pulsating beats, alluring rhythms, grimey feels, and deep sub focus as each tune is filled with a howling planet found in outer space.

Soulacybin (Street Ritual)
soundcloud.com/Soulacybin 

Soulacybin was incubated as pure auditory information, coded deep in alien realms of distant, future space. This auditory entity was sequenced into the DNA of a mushroom spore, then propelled through time and space on a trajectory for Planet Earth. Upon arriving on our planet, the spore germinated in the form of Earth music, bringing its intricately coded information to us through precisely arranged sound and vibration. Representing the bio-mechanically fused organisms of its home world, Soulacybin balances deep, squishy realms of organic dub with digital, hyper-active percussion and slimy, stretchy basslines. Thriving on the nervous system of musician John LaBoone, Soulacybin is here to bring its yet-unknown alien message to lovers of deep, patient, thoughtful music.
https://www.facebook.com/events/389504241402481/