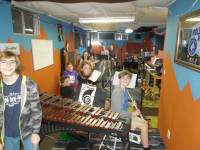 Mr. Kern's Music Studio Pop and Jazz Concert
Time: 6:30pm Day: Monday Ages: All Ages / Bar with ID Price: FREE
This Event Has Ended
Mr. Kern's Music Studio Pop and Jazz Concert
Monday March 6th 2017
Come and listen to an evening of beautiful music performed by young local musicians in the Wheat Ridge, Lakewood, Denver, and Arvada area. The audience will experience a variety of genres this evening including jazz, fusion, rock, pop, film score, and baroque music. Most musicians in the ensembles have been playing music in Mr. Kern's studio since the summer and really enjoy the opportunity to play together in small groups. Any ensemble is a possibility with the right musicians and proper instruction. Learning music is much more enjoyable when there is an opportunity to do it with others musicians the same age and ability. Mr. Kern provides private instruction for musicians until they have enough skill to move into a class. Performing music with others immerses the student into an environment of listening and communicating with music. Listen for that cohesion and communication between the ensemble members during tonight's performance.
Enjoy!
Music begins at 6:30pm - Artist will perform as listed in the order below
Featuring Youth Artists Includes…
"The Brass Buffalonians"
Alto Saxophone – James Pierce
Tenor Saxophone – Camden Johnson
Tenor Trombone – Viviane Kaltenbach
Baritone – Sam McCune; Ella Johnson
Percussion – Eden Trode
A brass quintet, in the non-traditional sense, comprised of middle school aged musicians playing traditional and popular scores featuring music from The Lord of The Rings and from the Baroque Era. This quintet is comprised of an Alto Sax, Tenor Sax, Trombone, Baritone, Trumpet, and Percussion to provide a very symphonic sound. This particular ensemble has been rehearsing together since fall 2016 at Mr. Kern's Music Studio, but many of the musicians have been with the studio since the summer. Mr. Kern looks for young local musicians with similar talent levels to participate in small ensembles and learn more about music!
                "The Crematorium and the Utensil"
Trombone – Aaron Trode
Trombone/Piano/Vocals – Ian Cuypers
Guitar – Oliver Thieme
Percussion – Aidan Wesley
This local group of high school musicians strives to create an indie rock sound playing modern covers from Damon Albarn's Gorillaz project and the British rock band The Heavy. These students have only been playing together since the start of the New Year, but they are working hard at developing their sound and understanding of music. The repertoire for tonight's performance was mainly selected by the students which helps showcase their musical interest to the audience. I hope you enjoy their unique interpretations of some very wonderful twenty-first century artists.
                "The Kernals"
Clarinet – Ben Agranoff
Alto Saxophone – Ella Burch
Trumpet – Olivia Macleod
French Horn – Keagan Pullen
Percussion – Will Reed
This is the smaller version of the 2016 Summer Jazz Orchestra from Mr. Kern's Music Studio. These members wanted to form a new ensemble and explore more traditional jazz music as well as music from the jazz fusion group Snarky Puppy. Most of these young musicians have been studying music with Mr. Kern for several years and have started to really develop a pronounced voice on their instruments. I hope they continue to enjoy and play music for the rest of their lives