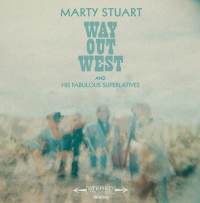 Five time GRAMMY-winner...
Marty Stuart and His Fabulous Superlatives "Way Out West Tour 2017"
...with: Sean McConnell
Time: 8:30pm Day: Saturday Doors: 7:30pm Ages: 18+ / Bar with ID Price: $45
This Event Has Ended
Marty Stuart

MARTY STUART BIOGRAPHY
Five time GRAMMY-winner Marty Stuart will release Way Out West, his 18th studio album, on March 10 on Superlatone. The album was conceived as a love letter by one of Country music's living legends, whom has played with everyone from Cash to Lester Flatt, to the lonely but magical American West, specifically the promised land of California. "If you go and sit by yourself in the middle of the Mojave Desert at sundown and you're still the same person the next morning when the sun comes up, I'd be greatly surprised," says Stuart. "It is that spirit world of the West that enchants me."
Way Out West's first single "Whole Lotta Highway (With A Million Miles To Go)" premiered on SiriusXM's Outlaw Country (Channel 60) and Rolling Stone Country here: http://rol.st/2iIttvC
Produced by Mike Campbell (Tom Petty and the Heartbreakers), and featuring the Fabulous Superlatives --guitarist Kenny Vaughan, drummer Harry Stinson and new member, bassist Chris Scruggs-- Marty's longtime band, which NPR Music said could "melt your heart with four-part harmonies, rock your bones with honky tonk, and dazzle you with picking worthy of their name," Way Out West is a cinematic tour-de-force. Listeners can feel the warmth of those desert winds over the album's 15 tracks, a collection of newly written originals, instrumentals and rare covers like the Benny Goodman-penned "Air Mail Special," and "Lost on the Desert," once recorded by Johnny Cash. "I asked Johnny about that song when I was in his band," says Stuart, "and he said the only thing he remembered about it was changing some words. 'Way Out West' just as easily could have been titled 'Lost on the Desert'."
Growing up in Philadelphia, Mississippi, Stuart was taken by the mystique of the Golden State: the culture, the movies and especially the music. "Everything that came out of California captivated my kid mind in Mississippi," says Stuart. As such, the album could only be recorded in California, and Way Out West was tracked between the famed Capitol Records, which birthed iconic albums like the Beach Boys' Pet Sounds and the country-rock of Glen Campbell's Wichita Lineman, and producer Mike Campbell's M.C. Studio, where much of the early Heartbreakers music was recorded. Said Campbell about producing Stuart's new record: "Working with Marty and the Superlatives was a blast, and it was fast! My role was easy, just set up the sound and let them play. Great guitars, great grooves, great vocals, they just have it all. This record is one of my favorite things I have ever been involved with." The new album, with its atmospheric production and primal rock & roll energy, evokes classics like Marty Robbins' Gunfighter Ballads and Trail Songs and Cash's The Fabulous Johnny Cash, one of the first albums Stuart ever owned. While other artists chased popular trends in the name of radio play, Stuart formed complete bodies of work. Way Out West is just the latest embodiment of that creative mission.

Marty Stuart is a five time GRAMMY-winner, platinum recording artist, Lifetime Achievement Award recipient from the Americana Music Association, Grand Ole Opry star, country music archivist, photographer, musician, and songwriter. Since starting out singing gospel as a child, Stuart has spent over four decades celebrating American roots music. His teenage years on tour with bluegrass legend Lester Flatt in the '70s were followed by six years in Johnny Cash's band in the '80s, and a chart-topping tenure as a solo artist in the '90s. Stuart hosts a Late Night Jam at The Ryman, a yearly tradition which kicks off the CMA Music Festival, with recent guests including Dolly Parton, Jerry Lee Lewis, Neko Case, Eric Church, Chris Stapleton, Maren Morris, Dan Auerbach
Sean McConnell

Sean McConnell
"From a very young age, I just knew that I was gonna spend my life making music," Sean McConnell states. "I never really questioned it, so I just forged ahead and didn't let anything stop me."

Although his self-titled new Rounder album will serve as his introduction to many listeners, the personable young artist is actually a seasoned, distinctive songwriter and an experienced performer with a quartet of D.I.Y. indie releases to his credit. Having built a substantial grass-roots fan base through tireless touring and old-fashioned hard work, McConnell is primed for a mainstream breakthrough.

Sean McConnell demonstrates exactly why McConnell has already won such a devoted audience. He writes vivid, forthright, effortlessly catchy songs whose incisive melodic craft is matched by their resonant emotional insight. Such instantly memorable tunes as "Holy Days," "Beautiful Rose," "Bottom of the Sea" and "Best We've Ever Been" are both catchy and personally charged, conveying an unmistakable sense of personal experience while exploring universal truths.

"This record's a bit of a step for me," McConnell asserts. "It's a real storyteller record, and it's pretty autobiographical. I'm learning how to be more honest and understated in my writing, and I wanted to match that sonically and vocally. When I look at this collection of songs, I see a lot of nostalgia, and looking back on sacred moments. I'm kind of nostalgic and reflective by nature."

McConnell recorded the album in his adopted hometown of Nashville with producers Jason Lehning and Ian Fitchuk, who also contributed keyboards and drums, respectively. The recording took place prior to McConnell signing with Rounder, with the artist financing the sessions himself.

"This project started," he explains, "when I went to a cabin by myself for a week, with the intention of writing some songs. In that week, I wrote about half of the songs on the record, and I could see the thread of what this record was gonna be. That was exciting for me, because it normally takes me a year to find an album's worth of songs that belong together. The whole recording process was really fun and liberating, and the energy in the studio was really positive."

Songwriting and music-making have been a part of Sean McConnell's life for as long as he can remember. "My mom was a singer and my dad was a guitar player and songwriter," he notes. "They'd play in coffeehouses and I'd go along and watch them perform, and seeing that lifestyle showed me that music was an option. And seeing my dad painstakingly writing songs had a huge influence on me, and gave me license to feel like I could enter into that world."

By the age of ten, he had become proficient on guitar and was writing his first songs. "I fell in love with the instrument first," McConnell recalls. "Learning guitar gave me a feeling of uncharted territory laid out in front of me. And as I got better on guitar, the songs started to come naturally. At around the same time, we moved from Massachusetts to Georgia, and the first song I wrote was about the feeling of leaving the familiar and feeling lost in a new place. Music gave me a focus and became an emotional outlet for me."

His supportive family background helped to instill the confidence and drive to pursue his muse early on. "I started playing in middle school, doing any gig I could get just to get my chops up," he says. "By high school, I would be doing local gigs and really promoting them, bringing out a couple hundred kids to my shows a few times a month and starting to make a decent living at it. That made me think that maybe I could do this in other towns. So I started traveling around the southeast a little bit, and there was always enough progress to take things to the next level. While I was in college, I did a lot of college touring, just me driving all over the United States in a Toyota Corolla. It was hard work, but it showed me that I could do it."

McConnell was just 15 when he self-released his first album, Faces, in 2000. Followed by 2001's Here In The Lost and Found, 2004's 200 Orange Street, 2006's Cold Black Sky, 2007's Tell The Truth, 2008's The Walk Around EP, 2010's Saints, Thieves and Liars, 2012's Midland and the 2014 EP The B Side Session.

"I had a guitar teacher in Atlanta who had a home studio, and he was the first one to say 'Hey, you should make a record,'" he says. "If I go back and listen to that first record now, the songs are kind of crude, but at the same time there's a directness about them that I like. My writing has evolved since then, but at the same time I've tried to hold on to some of that directness."

"I'm really attracted to songwriters who just put it out there honestly, and I feel like I'm getting back to basics and expressing things in a simple, direct way on the new album," he continues. "I'm just trying to learn how to be a more honest storyteller, trying to get my mind in a place where I'm not actually thinking and the music's just kind of happening naturally. When I read interviews with songwriters that I admire, they always say that the best songs are the ones that just kind of happen, like they're operating from the unconscious. That's a place I want to get to."

Having spent much of his life honing his craft and paying his dues, Sean McConnell is eager to launch the next chapter of his career.

"I kind of feel like I've been in a really long boot camp," he concludes. "I'm really grateful for that, because I feel like I've gained enough experience to know the deal and be prepared for anything. I'm excited to see where the next part of the journey takes me."