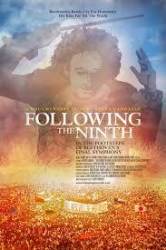 Boulder Chamber Orchestra
Following The Ninth: In The Footsteps of Beethoven's Final Symphony
(Film Screening and Q&A w/ Kerry Candaele)
Time: 4:00pm Day: Sunday Doors: 3:00pm Ages: 18+ / Bar with ID Price: $10
This Event Has Ended
Kerry Candaele was born in Vancouver, Canada, and grew up in Lompoc, a small town on California's central coast.
He has produced and directed several documentaries. The first part of Kerry's Beethoven | Hero trilogy was Following The Ninth: In The Footsteps of Beethoven's Final Symphony, which followed the impact of the Ninth across the globe. The film has won critical acclaim, while showing in more than 250 cities across the U.S. and around the world. His producer credits include Wal-Mart: The High Cost of Low Price and Iraq For Sale. He has also produced A League of Their Own, about his mother's experience in the All-American Girls Professional Baseball League. This documentary was later turned into a blockbuster hit by Columbia Pictures with the same title starring Tom Hanks, Madonna, and Geena Davis. 
Kerry attended Columbia University, where he was a Richard Hofstadter Fellow and President's Fellow in U.S. History. Earlier, he studied at the University of California, Santa Barbara. He has worked all over the world—including China, East Timor, Guatemala, Indonesia, Jordan, South Africa, Gaza, and the West Bank—for the Democracy Council (DemocracyCouncil.org), an NGO dedicated to peaceful reform in developing nations.
The most recent of Kerry's three books is Journeys With Beethoven: Following the Ninth and Beyond, co-authored with journalist Greg Mitchell. He has also written widely about U.S. history, and has published articles and opinion pieces in scholarly and popular publications including USA Today, Symphony Magazine, Irish America Magazine, The Nation, and The Huffington Post. Having made music a passionate hobby, he has written and released two CDs, Gas Money and Icarus Descending, for Battle Hymns Records, and has produced a CD for Western Beat, a collection of Los Angeles-based singer-songwriters.
He is on the Board of the Center For Artistic Freedom. 
He lives in Venice, California with his wife and three daughters.
​
"The film is beautiful and powerful…If millions could experience its affirming and incandescent message, we might turn around the destructive dynamics that are overwhelming the earth." – 
Bill Moyers


"A majestic documentary … Each anecdote builds upon the next to create that rarest of films: a documentary as ineffable and transformative as it sets out to be." – 
The Village Voice
Q & A and discussion to follow with Kerry Candaele and Sahman Saless from the Boulder Chamber Orchestra!