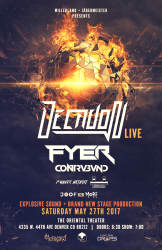 Millerland & Jägermeister Present:
DECADON
w/ FYER, CONTRVBVND
also: PWNAGEMETHOD, TUGBOAT, JOOF MORF
Time: 7:00pm Day: Saturday Doors: 6:30pm Ages: 16+ / Bar with ID Price: $18
This Event Has Ended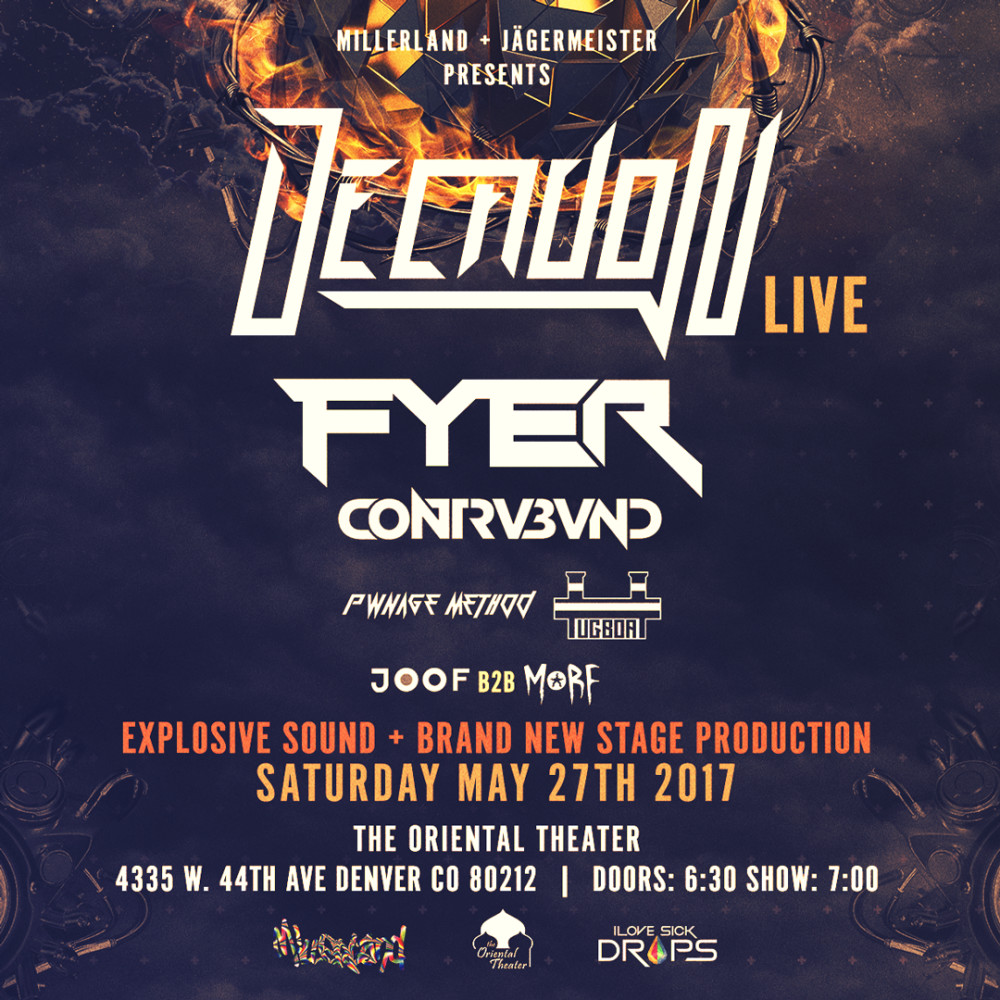 DECADON


Donnie Miller aka Decadon is an award-winning Producer/DJ/Guitarist from Denver, Colorado. He began his career with a foundation in rock music, as is evidenced by his passion for playing guitar. He is self-taught in guitar, piano, drums, and bass; and played in various bands throughout high school. His interest in computers, combined with his love and talent for writing and performing led him to the world of Electronic Dance Music. Decadon has already gained the support of well-known artists such as Excision, Diplo, and A-track. His live performances are a fusion of a classic DJ set with the unique addition of his live guitar. Since the start of his young career, Decadon has achieved a great level of success through sharing the stage locally and nationwide with some of EDM's most influential artists, such as Diplo, Brillz, Tiesto, Adventure Club, Dillon Francis, Valentino Kahn, Sound Remedy, Dada Life, Deorro, Flux Pavilion, and Savoy. Already becoming one of Colorado's hometown heroes, Donnie has his sights on the national circuit, and has an incredibly bright future ahead of him.
FYER

The live electronic duo known as FYER is comprised of EDM producer Bobby Duque and multi-instrumentalist composer Gabriel Guardian. Hitting the scene in mid 2013 after meeting by complete chance in line at a bank, the act has brought a fresh new feel to the electronic community with Guardian's mind blowing simultaneous guitar and keyboard skills partnered with hypeman producer Bobby Duque's ability to work the drop and pump up a crowd. Their unique style and sound has taken them across the US and their live videos online have began getting them attention from around the globe. 
Since the beginning FYER's goal has been to make heavy bass grooving, melodic-soaring electronic music with no boundaries regarding to genres. With Bobby launching clips, dropping samples, singing, and bringing the party while Gabriel melts faces playing guitar and keyboards AT THE SAME TIME… FYER has become the perfect mashup of an electronic artist combined with live instrumentalist whose show is like nothing you've ever seen.
The tools used to make their live show run consist of Gabriel's Fender Road Worn Stratocaster, given to him by his sponsors at Fender Guitars, ran through a Line 6 HD Pro, and his Alesis VI61 Midi Keyboard. Gabriel also uses a Line 6 Wireless System which gives him the ability to run, jump around, and do guitar spins and tricks at every point of the venue including VIP areas, bar tops, and even trips into the crowd to engage with the fans. Bobby's gear consists of an Alesis Sample Pad Pro, Novation Launchpad and an M-Audio Triggerfinger ran through Ableton along with a wireless microphone for hyping up the crowd and singing. Both members then run everything through a line mixer and into a DJM. They are currently are able to Tetris all their gear into a few cases for easy travel accommodations on fly out dates and when shows allow for the extra production will often be seen with a wall of guitar amplifiers to further instill the aspect of a LIVE show. 
FYER's works to date include their debut EP "The Spark" released on Techibeats Records followed by two singles, "Heart Success" via Funky Elements Records, and "The Lost (ft. Aloma Steele)" via Simplify Records. Their most recent track titled Melanie Martinez - Soap (FYER remix) was released through Atlantic Record's Soundcloud and you can stream it there.
Contrvbvnd

The age of the Producer/DJ is upon us, there is no denying that. It is incredibly easy to get lost in the ever growing roster of hopefuls overpopulating our news feeds nowadays, but there are a chosen few who shine through.
Enter the Bahour brothers, or as you've most certainly seen them, Contrvbvnd. These San Diego natives have been putting the work in day in and day out to make their rise to power nothing less than meteoric. Alaa(25) & Omar(22) have made it their sole purpose in life to create, from the ground up, dance music that moves you to the very core. "Fuck Genres" has been there moto since they started producing and something they have stuck too, no genre is safe from these banger busting brothers set on world domination. They first started producing after EDC Las Vegas 2011 when their creative spirit was given new life through a Skrillex set that changed them forever. This new attitude brought along with it a hunger to be staples in the festival circuit, make and play original content, and travel the world spreading their music and message. In the last year they have been crossing accomplishments off their lists left and right. With the release of "Click" The duo saw and immediate increase in hype. The track was a collaboration with Haterade, released by Elysian Records, and premiered on the EDM Network. One could say it was the start of it all. With multiple original tracks, collaborations, and remixes coming out every couple of weeks they have seen a fan base grow right in front of their eyes, gaining 14,000 Soundcloud followers in only a year. With countless hometown bookings under their belt, they've recently left the state and have begun touring more and more. The future is as bright as the sun in San Diego for these up and comers, and you should consider yourself lucky to bear witness.
Contrvbvnd coming to an event near you...
Sooner than you even realize.