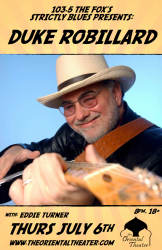 103.5 The Fox's Strictly Blues Presents: Blues Guitar Great....
Duke Robillard
with: Eddie Turner
Time: 8:00pm Day: Thursday Doors: 7:00pm Ages: 18+ / Bar with ID Price: $20
This Event Has Ended
Duke Robillard

***NOTE*** Tickets are $24.00 day of show on-line and $25.00 walk-up at door in cash, $27.00 credit
DUKE ROBILLARD...
Guitarist. Bandleader. Songwriter. Singer. Producer. Session musician and a one-man cheering section for the blues, in all its forms and permutations. Duke is a legend in the blues community...there is no doubt.
The Blues Music Awards (formerly W.C.Handy Awards) have named Duke Robillard "Best Blues Guitarist" four years out of five (2000,2001,2003,2004) making him the second most honored guitarist for that award! He was also nominated in that category again in 2005, 2007 and 2008.
In 2007 Duke received a Grammy nomination for his "Guitar Groove-a-rama" CD and was also honored with the prestigious Rhode Island Pell Award for "excellence in the arts" along with actress Olympia Dukakis, actor Bob Colonna, and R.I. Choreographer/Festival Ballet director Mihailo "Misha" Djuric.  The Pell award is named for Senator Claiborne Pell who help establish the the National Endowment for the Arts and Humanities in 1965.
Other awards over the last decade include three Canadian Maple Blues Awards in 2001, 2002, and 2003 for "Best International Blues Artist," The Blues Foundation's "Producer of the Year" award in 2004, The French Blues Association "Album of the Year" award in 2002 (Living with the Blues) and "Guitarist of the Year" awards in 1999 and 2002.
BB King himself has called Duke "One of the great players of our time".  The Houston Post called him "One of God's great guitarists" and the New York Times says "Robillard is a soloist of stunning force and originality.
None of that goes to Robillard's head. He's still on the road, still playing as many as 250 dates a year. And still proving, night after night, that his true talent is bringing people out to hear the music, appreciate the show, and dance to the blues.
Duke had his first band in high school — he was born in Woonsocket, Rhode Island — and he was fascinated from the beginning by the ways in which jazz, swing, and the blues were linked. In 1967, he formed Roomful of Blues, and the band was tight enough and tough enough to accompany two of its heroes, Big Joe Turner and Eddie "Cleanhead" Vinson on record and in live appearances.
Always ahead of his time, Duke's first band pre-dated the renewed interest in jump blues by more than a decade — and almost 20 years later, in 1986, when he recorded with jazz sax master Scott Hamilton, he recorded a collection of classic big band tunes from the '30s and '40s, thus skillfully pre-dating the neo-Swing craze of the mid '90s.
Roomful of Blues — which still continues, forty years later — gave Duke his first exposure to a wide public, and when he left after a dozen years, he played briefly with rockabilly king Robert Gordon, then cut two albums with the Legendary Blues Band (a sterling collection of former members of Muddy Waters' band). He led his own band until 1990, and then replaced Jimmy Vaughan in the Fabulous Thunderbirds.
In 1993, as he was about to sign a world-wide recording deal with Virgin/Pointblank, he met Holger Petersen, head of the Canadian independent label Stony Plain, at a folk festival in Winnipeg. In conversation, he mentioned he wanted to record a complete album of blues, without the r & b and jazz influences of his work to date.
Petersen was interested; Virgin gave the go-ahead, and the resulting album, Duke's Blues, earned rave reviews. It was so successful, in fact, that Virgin soon licensed the record from Stony Plain and released it around the world (except in Canada, where it continues in the Canadian company's catalogue.
In the years since his relationship with the Canadian label has been astonishingly fruitful. As a soloist , he has released eleven CDs, plus one with label mate Ronnie Earl and one with The New Guitar Summit. Duke's next release will be in May/June of 2008
Just as remarkable have been the projects he has produced (and played on) for Stony Plain, including two albums with the late Jimmy Witherspoon, two with Kansas City piano king Jay McShann, comeback CDs for Billy Boy Arnold and Rosco Gordon, a swinging confection with the Canadian band The Rockin' Highliners, and a superb album of guitar duets with the jazz legend Herb Ellis.
As if this growing catalogue was not enough, he has found time to share studio gigs with Bob Dylan (the Daniel Lanois-produced Time Out of Mind sessions), Ruth Brown, the late Johnny Adams, John Hammond, Pinetop Perkins, and Ronnie Earl, among many others. He now has his own 24-track studio in his home, and he has become deeply involved in graphic design and photography as well as record production.
Duke Robillard is a man in command of a full range of creative talents — unique in the blues, and rare in the music industry as a whole. He is, in fact, a complete artist at the height of his power.
Eddie Turner
"Otherworldly", "scorching", "polyrhythmic" and "chilling" have all been used to describe Eddie Turner's guitar playing. His ethereal style is an amalgam of the Afro-Cuban rhythms of his heritage and the music that influenced him as a teenager: Chicago blues, jazz, r&b and psychedelic rock. The Cuban-born singer/guitarist cut his teeth in several rock bands contributing what Slate magazine describes as "spacey-yet-resounding solos." Now he emerges for the first time as his own bandleader on Rise, which arrives in stores in February, 2005. Eddie "devilboy " Turner picked up his first guitar, a candy apple multi-pickup Japanese Tiesco, when he was twelve. Raised in Chicago, he moved to the Rockies in the early 70's to attend the University of Colorado; "a ruse," he says, "to get my parents to keep sending checks." More inspired by music than by academia, Turner immersed himself in the local scene, and stints with some notable acts ensued. He played in the region's first punk/r&b band The Immortal Nightflames, then with Grammy nominees Tracy Nelson, Mother Earth, and the 4-nikators, a group which has become legendary for its unique mix of soul, Motown, and rock. Turner got the chance to grab at the brass ring when Colorado compadre Tommy Bolin left his band Zephyr to form The James Gang and Deep Purple. He eagerly joined the hard rock, psychedelic, blues band as a guitarist, singer and songwriter. But, tragedy struck with the sudden death of Zephyr lead singer Candy Givens. Deeply shaken, Eddie decided to "grow up" by taking a hiatus from performing music to become a realtor in Denver.
Yet, some people just refuse to "grow up". A decade later, when Eddie was invited to join the Ron Miles electric band led by one of the country's premier trumpeteers, he jumped at the chance. Then, in 1995 he rounded out the Otis Taylor Band adding what Guitar Player magazine describes as "otherworldly atmospherics (which) lend a decidedly cosmic ambience to Taylor's sound." Enhancing the spice and flavor of the trio, Eddie recorded five groundbreaking CDs, and toured the U.S. and Europe extensively.
Today, Turner continues to evolve as an artist. With nominations from the Blues Music Awards & many others, for his CD's: Rise, the Turner Diaries and Miracles & Demons, all produced by Kenny Passarelli. Running the gamut between Blistering guitar to deep delta blues, each CD dazzles with the chops and techniques that Turner has developed over the course of his unique genre melding career. It's evolutionary music – and quite grown up indeed.