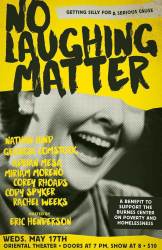 No Laughing Matter // A Benefit to Support the Burnes Center
w/ Nathan Lund, Rachel Weeks, Corey Rhoads, Cody Spyker, Adrian Mesa, Miriam Moreno, & Georgia Rae
Hosted by Eric Henderson
Time: 8:00pm Day: Wednesday Doors: 7:00pm Ages: 21+ Ages Price: $10
This Event Has Ended
Please join us as we get silly for a serious cause - homelessness. Many of us are concerned with ​Denver's homeless sweeps and the disturbing lack of resources for individuals struggling with poverty. Feeling heartbroken and helpless many of us have asked, "But how can *I* help?" This comedy show, which will donate all door proceeds to the Burnes Center on Poverty and Homelessness, aims to do just that.
Hosted by Eric Henderson, our stellar line up includes Denver favorites Nathan Lund, Rachel Weeks, Corey Rhoads, Cody Spyker, Adrian Mesa, Miriam Moreno, and last but not least, Georgia Rae. 
For a donation of $10 you can enjoy an evening of laughs and support this important Center which helps practitioners, community leaders, service providers and others make an impact in their communities and transform the lives of people experiencing homelessness.
Meanwhile Founder Donald Burnes will be selling and signing his book, "Ending Homelessness: Why We Haven't, How We Can."
ABOUT THE BURNES CENTER //
The Burnes Center on Poverty and Homelessness provides assistance in research, policy analysis, and program evaluation and improvement. We help those committed to addressing the issue of homelessness - including service providers, practitioners, organizations, local and state government, and foundations - review policies, assess and measure impact, determine best use of resources, and use evidence and data to enhance existing programs as well as inform future policies, services, and efforts.