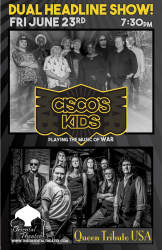 Cisco's Kid's (A Tribute to WAR) with Queen Tribute U.S.A.
Dual Headline Show!
Time: 8:00pm Day: Friday Doors: 7:00pm Ages: 18+ / Bar with ID Price: $14
This Event Has Ended
Showtimes
8:00 pm
Queen Tribute U.S.A.
Cisco's Kids

In 1968 when the travesty of war and social injustice had come to a head, a band from southern California ironically named itself WAR and went about delivering a message of peace, unity and brotherhood through a unique street music blend of funk, jazz, Latin and reggae. That band now performs as The Low Rider Band but the message is more relevant now than ever.

The 9 musicians who comprise Cisco's Kids are passionate to a fault about replicating the feel, the vibe and the message from the band that created an unforgettable soundtrack and we are honored to do our part to promote that message for your event. So fire up the low rider, slip into darkness, throw out a peace sign, get this funky music in ya, and GET UP! STAND UP FOR YOUR RIGHTS!
The band features members: 
Mark Strivings (Thumpin') Sax, Wind Synth, Vocals, Percussion 
Tom Capek (Dotsero) Keys, Vocals
Dan Treanor (Afrosippi Blues Band) Harmonica, Percussion
Don Millan (Funky Milkshaks, DenCity) Guitar, Vocals
B Broox (Europe Motown Review) Vocals, Percussion
Ivy Hatfield (Boulder Gospel Choir) Vocals, Percussion
Dave Perlowski (Thumpin') Percussion, Vocals
Queen Tribute U.S.A.

QueenTribute USA is Denver's very own tribute to the band Queen.  Our set list is packed with hits from all the way back in '73 up through the early 90's.  The show is designed to capture the look and feel of the band with authentic costumes and amazing instrumental sounds, right down to the Brian May guitar and Vox amp.  From the soaring lead vocals of our "Freddie" to the harmonies provided by the female vocalists, to our fleet fingered pianist, the show delivers sonically and visually.  We are honored and humbled to be able to present the iconic music of the legendary band Queen and hope to see you at the Oriental on the 23rd.