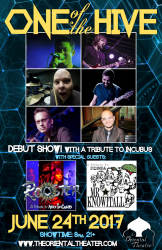 One of The Hive (Incubus Tribute)
Mr. Know It All (Primus Tribute) & Rooster (Alice In Chains Tribute)
Time: 8:00pm Day: Saturday Doors: 7:00pm Ages: 18+ / Bar with ID Price: $12
This Event Has Ended
Showtimes
10:10 pm
One Of The Hive (Incubus Tribute)
9:10 pm
Mr. Know It All (primus Tribute)
8:00 pm
Rooster (Alice In Chains Tribute)
One Of The Hive (Incubus Tribute)

Paying homage to one of the greatest Rock-n-Roll bands of the 1990's/2000's...One Of The Hive, are Denver's one and only Incubus Tribute.  They take time to execute with total precision, all of your favorite Incubus tunes while adding their own flare and playing styles to a pot of fantastically written songs.  Don't miss this sure to be very special evening of music!  
Mr. Know It All (primus Tribute)

One of Denver's longest running and most admired 'Tribute Bands', takes the stage here at The Oriental Theater on Sat June 24th!  Denver's own Primus, "Mr. Know It All", featuring Rick Thompson; Bass & vox, Kent Hogue; Guitar and Eric Thiel on Drums....will be playing all of your favorite wacky, heavy and twisted, tunes of Les, Larry, Herb (and Brain, and Jay respectively).  Don't miss it!

Rooster (Alice In Chains Tribute)

Rooster is a live, full power tribute to the music of the legendary Alice In Chains. Playing with raw sound and genuine admiration for one of the best bands in Modern Rock in history, band members Ron Kibble-Vocals, Dave Arbus-Bass, Michael Nelson-Drums and Zach Saligoe-Guitar, re-create the best possible show for you...via one of the best bands in the world!