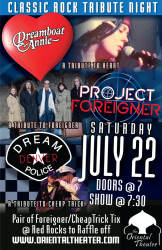 Dreamboat Annie (playing the music of HEART)
with: Project Foreigner (Foreigner Tribute) and Denver Dream Police (Cheap Trick Tribute)
Time: 8:00pm Day: Saturday Doors: 7:00pm Ages: 18+ / Bar with ID Price: $12
This Event Has Ended
Showtimes
9:10 pm
Project Foreigner
8:00 pm
Denver Dream Police
Project Foreigner

Because of their love for and desire to celebrate the great British-American rock band, five talented musicians joined forces in 2016 to form Project Foreigner – A Tribute to Foreigner. Playing top hits, their recent presence in the Northern Colorado live music scene has already excited and delighted audiences and venues alike! 
Dave Stremel – Lead Vocals "Following my heart" and stepping out from behind the guitar with his impressive vocal range, Dave leads this tribute act with fire and finesse by embracing the role of Lou Gramm.  Dave also plays guitar for Grace's Period as well as Denver Dream Police, a tribute to Cheap Trick.
Fernando Escobar – Guitar & Vocals Meticulously and artfully playing the well-renowned guitar ri5s of Mick Jones, Fernando is a very talented musician. He has played in several music projects over the years, which currently includes regionally known Rush Archives, a tribute to Rush.
Jane Frederick – Keys & Vocals Classically trained, Jane entered the band scene 25 years ago as a studio musician but has only played in a handful of bands. Her other current projects include RetroSonics, an 80's Pop cover band, and Hey, Lady!, an award-winning tribute to The B-52's.
Sherri Pfleiger-Elliott – Bass & Vocals Laying down the melodic low-end rhythmic grooves and contributing to the spot-on backup vocals is Sherri, a 30 year music veteran. She has played in a variety of bands including Audible Clique, a high energy modern/alternate rock band trio, with husband and drummer Tim Elliott.
Tim Elliott – Drums & Vocals, An in-demand drummer, Tim has played in numerous rock bands across the country during his 30 year career. In 2016, he was awarded Musician of the Year at the RMC Music Awards. Tim's latest feat is Drumming Up Hope, a Foundation
Denver Dream Police

Denver Dream Police are Denver's very own "Cheap Trick Tribute"!  The band is made up of many Denver veteran's including Glen Drieth, Dave Stremel, Keith Trayer & Joey Shapiro, whom have all played in our regional music scene for many, many years.  The band takes you through a musical journey of all of your favorite Cheap Trick tunes and this show is one NOT to be missed!