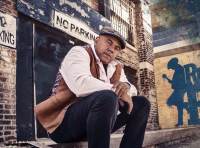 103.5 The Fox's Strictly Blues Presents:
Ronnie Baker Brooks - Denver Album Release For "Times Have Changed"
with: The Movers and Shakers
Time: 8:30pm Day: Friday Doors: 7:15pm Ages: 18+ / Bar with ID Price: $22
This Event Has Ended
Showtimes
9:50 pm
Ronnie Baker Brooks
8:30 pm
The Movers and Shakers
Ronnie Baker Brooks
***NOTE*** This show is $27.00 cash at door, $29.00 credit
He was born Rodney Dion Baker in Chicago, Illinois.[3]
At the age of nine, he first appeared on stage playing guitar alongside his father.[1] In 1985, he graduated from Hales Franciscan High School.[3] He learned to play bass guitar and joined his father's band in 1986. He played guitar on his father's live album, Live from Chicago: Bayou Lightning Strikes, released by Alligator Records in 1988. He was then part of Alligator Records' 20th Anniversary Tour, performing alongside Koko Taylor, Elvin Bishop, and Lil' Ed Williams.[3]
By 1998 Brooks was pursuing a solo career.[1] His debut album, Golddigger, was released the same year by the Watchdog label.[4] It was produced by Janet Jackson.[1] He was nominated for a Blues Music Award in 2000 for Best New Artist.[1] His second album, Take Me Witcha, was released in May 2001.[5]
Brooks most recent album was Torch (2006). The Boston Herald described it as "ferocious and unrelenting, The Torch may be the year's best blues album." The album included contributions from Lonnie Brooks, Eddy Clearwater, Jimmy Johnson, Willie Kent, and Al Kapone and was produced by Jellybean Johnson.[6][7]
On occasions when his younger brother, Wayne Baker Brooks, joined him and his father on stage, they were billed as the Brooks Family Band.[7]
Brooks played at the Notodden Blues Festival in 2007 and at Memphis in May and the Musikfest in 2009. In August 2010, he co-wrote three tracks with Chris Beard for the latter's Who I Am and What I Do, released by Electro Glide Records.[8][9]
In 2012 the blues journalist David Brais declared Brooks "blues royalty", stating that "his particular style of Chicago blues has been performed on stages around the world. It honors the true torch bearers of this unique sound which includes Willie Dixon, Buddy Guy, B.B. King, Luther Allison and his father."[10]
In 2017...Ronnie released his first album in 10 years with an array guest musicians including the likes of Todd Park Mohr (Big Head Todd) and Angie Stone to name a few.  He now plays The Oriental Theater in support of the new disc on Friday September 1st 2017!  PLEASE JOIN US FOR IT!
Brooks lives in Dolton, Illinois, and is a regular at Artis's Lounge on Chicago's South Side.[3]
The Movers and Shakers

The Movers and Shakers are a tight knit band of six music enthusiasts who bring everything they have to every single performance. Influences range from old school soul stars like Otis Redding and Sam and Dave to The Red Hot Chile Peppers, Talker, Joe Cocker and Jonny Lange.

The band is fronted by dynamic vocalist Andy Webber. Andy's energetic and soulful style is impressive. He is as comfortable with an Otis Redding ballad as he is with vintage 60's Steppenwolf or contemporary RnB from Blackstreet. Andy has the vocal chops to cover anything. Similarly guitarist Ryan Borthick's well rounded musical background has given him the skills to take on straight ahead blues and uptown funk. The son of drummer Kyle Borthick, Ryan is a fiery performer with a deep well of chops to draw from. Bass man Dane Vernon is a long time friend and musical associate of Ryan and Andy's. The three have worked together in several popular Denver based bands including Survivor and Secretly Supervised. Dane is actually gifted on multiple instruments and is a strong vocalist in his own right. Drummer/vocalist Kyle Borthick has been around the Denver music scene for many years. He has worked with such legendary Denver bands as J.D. and The Love Bandits , The Captains, Red Hot Blues Band and The Delta Sonics. He has also worked with national acts such as Bo Diddley, Dr John and Bob Margolin.
This veteran blues/RnB drummer provides a solid backbone for this exciting group. Eddie Silk (tenor sax/keys/vocs) and Scott Sessions (trumpet) are The Hard Core Horns! These two veteran horn men put the fiery icing on the cake. Don't miss an opportunity to see this band. You won't be disappointed.