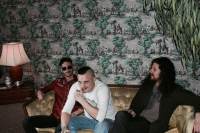 The Yawpers
Album Release Show
w/ Jesse Dayton
Extra Gold
The Beeves
Time: 8:00pm Day: Saturday Doors: 7:00pm Ages: 18+ / Bar with ID Price: $20 - $25
This Event Has Ended
Band Schedule

The Beeves - 8 - 8:45
Extra Gold - 9 - 9:45
Jesse Dayton - 10 - 11
The Yawpers - 11:15 - 1am
The Yawpers

The Yawpers' third album Boy in a Well is a sensational tragedy set in World War I France about a mother abandoning her unwanted newborn child. But, like the band itself, there's so much more roiling beneath the surface.

Recorded in Chicago by Alex Hall (JD McPherson, Pokey LaFarge, The Cactus Blossoms) at Reliable Recordings with production assistance and instrumental contributions from Tommy Stinson (The Replacements, Bash & Pop), Boy in a Well stretches The Yawpers' sound and ambition in challenging, impassioned, and dynamic directions. To follow up their 2015 Bloodshot debut American Man — which Rolling Stone described as mixing "high-brow smarts with down-home stomp" — the trio left the comfort zone of their Denver hometown in September 2016 to record in a city they'd only briefly visited before.

The Yawpers' Boy in a Well is complex; it's a manically conceived, historically situated, emotionally underscored, plot-driven fictive universe. It's demented, unpredictable, taboo, ambitious, and yet distinctively cohesive.


Jesse Dayton

Jesse Dayton has been building a cult following around the globe playing festivals in North America and Europe for years with his guitar shredding, country-infused, Americana sound. As a critic's darling for his first record on Justice Records, Raisin' Cain (1995), and a number one Americana radio ranking, Jesse was hired at a young age to play lead guitar on some of the last recordings, and play live, by country legends Waylon Jennings, Ray Price, Johnny Bush, Willie Nelson & Glen Campbell and he's been featured in many guitar magazines. Sensing a shift in the music business climate, Jesse formed his own label in 2002, Stag Records, and began his most prolific recording period. While recording five solo records, one duet record, one live record, all on Stag, as well as two soundtrack recordings (Devil's Rejects, Halloween 2) for rocker/director Rob Zombie, Jesse managed to act in movies and music videos, produce several records for other artists (the latest being Supersuckers front man Eddie Spaghetti's "The Value Of Nothing" on Bloodshot Records), write two screenplays, and most recently wrote and directed a new horror movie, "Zombex," starring Malcolm McDowell, Sid Haig, John Doe, and Lew Temple ("Walking Dead). All while still performing 150 shows per year.
Jesse landed the part of Kinky Friedman in Ted Swindley's stage production of "Becoming Kinky: The World According To Kinky Friedman," which ran for a few weeks and also led him to releasing a record of Kinky Friedman original songs called "Jesse Sings Kinky" which has opened up a whole new chapter for him with more radio airplay than ever in his career. As his film "Zombex" just got back from Cannes Film Festival, Jesse will be releasing the Zombex soundtrack which is steeped heavy in the Louisiana/Texas music of his youth. Before JD starts on his next film, he'll be on tour "brangin' it" with his all-star band of hotdog Austin musicians, playing to his faithful fans called "Hardchargers" around the globe. Don't miss this show!!!