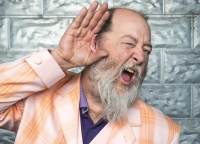 The return of...
Shinyribs (featuring Kevin Russell of The Gourds)
with special guests: Dyrty Byrds
Time: 8:00pm Day: Monday Doors: 7:00pm Ages: 18+ / Bar with ID Price: $25
This Event Has Ended
Shinyribs

About Shinyribs
Shinyribs is the continuation of Kevin Russell's musical journey which began in Beaumont,TX when, at 14, he found his father's guitar under his bed, along with a sewing machine, a billy club and a box of comic books. Luckily he chose the guitar. Following his family's oil boom and bust migratory path he landed in Shreveport,LA where he formed his first band. Picket Line Coyotes were a Husker Du meets Elvis Costello hybrid that lived and died between the "Arklatexabamassippi" borders much like their unfortunate animal namesake. That's what took him to Austin where The Gourds were born from those Coyote ashes. That storied band of pumpkins came to an end after 18 years of  good times and hard travelin'.  And from that point on Russell has been riding high on the Shinyribs river of country-soul, swamp-funk and tickle. A Shinyribs show is an exaltation of spirit. It's a hip shaking, belly laughing, soul-singing, song-slinging, down-home house party. All styles of American music are likely to be touched on, squeezed on, kissed on by this world class band featuring Winfield Cheek on Keyboards, Keith Langford on Drums, Jeff Brown on Bass and the Tijuana Train Wreck Horns. Whether on his 6 string Uke or his Electric guitar or singing acapella Russell will entertain you like no one else. The freedom with which he moves coupled with his incredible voice is an experience in and of itself. His original songs laced with magical-realism along with novel interpretations of popular songs old and new (George Jones, TLC, Leadbelly, T-Pain) are the true art that runs throughout. He's Burl Ives meets Al Green, Hank, Jr. meets Teddy Pendergrass. Wendell Berry meets Chuck Berry.  Truly something not to be missed. A unique musical experience and an original expression of our colorful musical heritage.
Dyrty Byrds

Leaving a trail of burned up bars and sweat soaked guitars since 2009, the Dyrty Byrds have shown no mercy in their pursuit of original guitar driven rock and roll. Tori Pater, Eric Martinez, Mike "Spanky" McCluer, and Andrew Clapp are a four-piece rock band from Denver, CO that would fit as easily into the 1970's classic/southern rock scene as they do in modern day American music. 
Playing on their love of songwriting and rock & roll, Tori Pater (Polytoxic) and Eric Martinez (Bloodkin) have been playing music together since 2004 and have eased into a prolific songwriting partnership which is deeply solidified on the new Dyrty Byrds release Failure is Feedback, due out Feb. 2016. The vast majority of the new songs were born and flushed out in Tori's basement with just he and Eric and a couple of acoustic guitars.
Seeing a few different formations after their 2009 debut, Dyrty Byrds have worn the tried and true rock & roll recipe of two guitars, bass, and drums as a badge of honor for the better part of their existence. Mike "Spanky" McCluer (Larry) and Andrew Clapp (Forever In Blue Jeans) on Bass and drums (respectively) bring a "freight train through the Rockies" type sound to the band that only Spanky and Andy can produce. 
Failure Is Feedback is the Dyrty Byrds' third release and second album done with Chad "Chadzilla" Johnson at Silent Scream Studios in Denver, CO. Failure touches on outlaw country, a little punk rock, and funk with steady doses of rock & roll through out the record. It takes you to a place where guitars rule, truth is paramount, and the bar is always open.