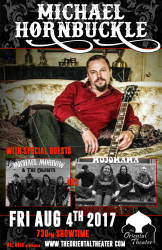 Michael Hornbuckle
with: Michael Morrow and The Culprits & Mojomama
Time: 7:30pm Day: Friday Doors: 7:00pm Ages: 18+ / Bar with ID Price: $12
This Event Has Ended
Showtimes
9:40 pm
Michael Hornbuckle Band
8:40 pm
Michael Morrow and The Culprits
Michael Hornbuckle Band


Michael Hornbuckle has been bringing blues and rock music to people for 18 years. Homegrown in the Mile High City, as was his father, legendary bluesman Bobby Hornbuckle who had Michael backing him on drums at 13. While Bobby's journey ended in 96', Michael took over the torch along with brother Brian(bass).  
Inheriting Bobby's old Gibson 335, the brothers began working wherever, whenever, and cutting their first recording. In 1998 "Pass The Torch" was released. It's a raw, respected blues/rock album including; original cuts, covers such as Creams' version of Outside Woman Blues, and a tip of the hat to the man who passed on his love for blues, with a Bobby Hornbuckle original, Down In The Valley. 
Early 2000's after a Red Rocks appearance warming up the Doobie Brothers, he spent time touring the country with Texas blues monster Vince Converse, and releasing the acoustic blues album Conbuckle Station "Here Come The Blues" on New Shoes Records.  
"Lost & Found By Trial & Error" was released in '05. It was an opportunity to evolve a songwriting style, as well as a defining vocal and guitar sound 
A happenstance meeting in Los Angeles in 2012 with world class Universal Picture music producer, and former member of Mother's Finest, Alex 'Ace' Baker, produced the album Virtue & Vice... 
After a 2015 appearance at the Telluride Blues Fest, the Mile High Blues Society recognized Michael by awarding him: Best Blues Band, Best Self Produced Album, and sent him and his band to Memphis to represent Colorado at the International Blues Challenge.
2016 finds Hornbuckle teaming up with Ace Baker again for his latest release, due out Sep. 2016. Michael is also nominated in this years Rock Awards for best songwriter, best song, best male vocalist, and best blues band.
Michael Morrow and The Culprits

Michael Morrow's debut album, Hard Rock Countryfied Blues, is just about as good as it gets.  With his big, red Gretsch guitar in hand, he delivers an old school tone that embodies his rich vocal timbre.  Whether it's the rockabilly fun of 'Had Enough', hard driving 'Gimme' or southern rock sensibility of 'Dirty Little Love Song', fans have come to love his diversity in songwriting.
His 2015 release 'Bad Penny' is a return to a harder rocking style with songs like 'Rock and Roll Ain't Never Paid My Bills' and 'Strange' but still hints of that southern-bluesy style with 'Promise of the Day' and 'Anytime is Alright'...but it's the Thorogood-esque vibe of the title track 'Bad Penny' that gets the crowd a jumpin.  Don't miss Michael Morrow and the Culprits live...they are one of Denver's best! The band features Michael Morrow on Lead Vocals and Guitar...along with Randy Mosman: Bass/Vox, Craig Jahns: Lead Guitar & Tim Elliott on Drums/Vox.
Mojomama

Mojomama...a "Blues" favorite has been gracing stages around the Mile High City for 10 years.  They are one of the best regional acts in Denver and are a perennial fav in Colorado!  The band features Jessica Rowand on vocals along with Paul Rogalski- Bass, Bob Murnahan - Guitar & Paul Christiansen - Drums.  Don't miss this one, it's sure to be a great night!