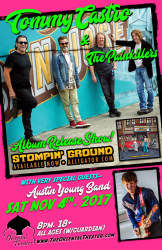 103.5 The Fox's Strictly Blues Presents:
Tommy Castro and the Pain Killers - 'Stompin Ground' Album Release Show!
with:: Austin Young Band
Time: 8:30pm Day: Saturday Doors: 7:30pm Ages: 18+ / Bar with ID Price: $24
This Event Has Ended
Showtimes
8:30 pm
The Austin Young Band
9:45 pm
Tommy Castro and the Painkillers
The Austin Young Band

Austin Lee Young, a Colorado native, picked up his first guitar at age 12 and hasn't put it Austin Youngdown since. Self taught, he churns out the blues and displays his music with electrifying passion that defies his young age. He engages his audience and can match any seasoned performer that currently draws large crowds. His inspirations run the gauntlet of the Blues from historical giants such as Robert Johnson and Muddy Waters to contemporary masters like Jimi Hendrix, Eric Clapton, and Stevie Ray Vaughan. Currently Austin and his band perform locally and nationally in established music clubs, numerous music festivals, private functions, and special events. He incorporates the sheer honesty of the blues and performs it with a modern, high energy sound that remains faithful to its traditional roots.
Tommy Castro and the Painkillers

"Phenomenal and funky...soulful vocals and inspired blues-rock guitar" – The Washington Post 
"An inspired blend of high-energy blues, R&B and roadhouse rock…soulful, celebratory vocals and exquisite, stellar guitar" —Blues Revue 
Over the course of his career, guitarist, vocalist and songwriter Tommy Castro – a six-time Blues Music Award-winner – has played thousands of shows to hundreds of thousands of ecstatic fans. Castro, along with his band, The Painkillers -- bassist Randy McDonald, keyboardist Michael Emerson and drummer Bowen Brown -- plays music that is guaranteed to fill the floor and raise the roof. With seemingly telepathic musicianship, the Painkillers bring an unmatched passion to Castro's blue-eyed California soul and hard-rocking, good-time songs. Delivering the songs from his brand new Alligator release, Stompin' Ground, Castro both looks back with autobiographical originals and cover songs that inspired him, melding contemporary lyrics with blistering blues-rock. No Depression says, "Castro plays gritty, string bending blues like a runaway soul train…a glorious blend that rocks the soul and lifts the spirits."