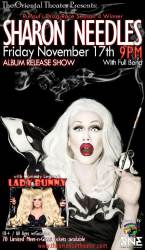 RuPaul's Drag Race Season 4 Winner...
Sharon Needles Album Release Show (75 Min Full Band Show)
with Drag Comedy Legend: LADY BUNNY (40 Min set). Sponsored by: Groovy TV...Click button for..."More Info"
This is a general admission standing/seated event. Seating is first come, first serve. There will 70 'Meet N Greet' tickets available. MnG is with Sharon Needles only at 7pm.
Time: 9:00pm Day: Friday Doors: 8:00pm Ages: 18+ / Bar with ID Price: $32 - $45
This Event Has Ended
Sharon Needles

***PLEASE NOTE*** - This is a partially seated event. Seating IS first come first serve as this is a General Admission show. MnG will take place at 7pm including a photo op and signed poster with Sharon Needles only (NOT Lady Bunny).  There will be a general ticket line out in front of the venue with entry at 8pm.  The MnG line (also in front of venue) will come in at 6:50pm and will have first pick of seats.  Tickets are $38.00 at door, $40.00 credit

Rewind to 1981. Sequestered in the Iowa cornfields… ah, forget that. Everyone knows the spiel about bad girl Sharon Needles plastering her face to the television and painting on makeup in a small town that ejected her from hallowed ground, only to catapult her to stardom… or is that Hell? Anyway, to make a long story short, this reviled sweetheart had a plan of action that would take her out of the depths of too much corn into a dark, exciting city where the corn syrup and corn liquor at least have a label.
Fast-forward to 2004. A staple on the Pittsburgh nightclub and underground arts scene… ah, ignore this. Everyone knows she dodged bottles and groping hands for years while she paraded onstage like a vampire in high fashion. Frankly, people thought she was either stupid or possessed by a drag demon until the Pittsburgh City Council honored Needles for outstanding work as an advocate for LGBT youth, declaring June 12 Sharon Needles Day.
Break through to 2012. Now we're talking… as long as we leave out the funny part about the soul of a shoe and the not-so-funny part about an arsonist torching her home. The reigning season four winner of RuPaul's Drag Race and professor on RuPaul's Drag U, Sharon Needles has performed throughout North America on an eighty-city tour, popping out of caskets everywhere.
Needles went on to host Logo TV's weekly horror picture show FEARce! and with her amazing live singing voice and vocal range, she received excellent reviews for her role as Dr. Frank-N-Furter in The Rocky Horror Picture Show at the Woodlawn Theater in San Antonio, Texas, as well as a sold out run at the Castro Theatre in San Francisco, playing the lead in the original play Silence of the Trans. Alongside the Scissor Sisters, accolades again in another full-capacity show.
She posed nude-ish for the UK fashion magazine IDOL… just had to get that in there… ah, don't even think about it… that's not what we meant… and made the cover for OUT's most influential entertainer of the year and was dubbed Stylemaker of the Year in the publication's annual OUT 100. Her haunting, vegetarian presence appeared on PETA billboards throughout the US in a Halloween season protest against meat consumption and commercial farming, which kicked off in NYC's meatpacking district. Alongside Paul McCartney and Pamela Anderson, Needles is a spokesperson for this animal rights organization. She released her own line of Halloween masks and underwear with a pentagram on the… uh, sorry, that wasn't appropriate. A model for androgynous clothing lines by the hottest NYC fashion designers, such as Scooter LaForge, Geoffrey Mac, and Deryck Todd, this post-Warhol mannequin knows how to position herself for a camera. Never short on attention, Needles has acquired an impressive list of admirers. Lady Gaga gave a public stamp of approval, calling her, "Fabulous," envious of her couture fashion, and asked, "any rentals for my tour?" Kelly Osbourne announced, "If I could wake up and be a 'real' drag queen, I would want to be Sharon Needles." Ana Matronic of the Scissor Sisters simply gushed, "I really, really, really love Sharon."
On to infamy. Needles released a twelve-track studio album on January 29, 2013, fulfilling a lifelong dream of collaborating with her idols: Ana Matronic, Jayne County, Amanda Lepore, RuPaul, renowned theremin player Armen Ra, and partner Alaska Thunderfuck, a season five star of RuPaul's Drag Race. Produced by Tomas Costanza, PG-13 is a stellar debut. Costanza said, "Sharon Needles is the most paranoid, disgusting, vile, lewd, corrupt, and obscene bitch I've ever met. And I mean that in a good way. Basically, there are three human needs in life: Sex, Scotch, and Sharon Needles."
A music video filmed at the historic McKittrick Hotel in NYC was released simultaneously. Directed by M. Sharkey, known for his work with Boy George, Adele, and Sir Elton John, "This Club Is a Haunted House" is a Hitchcock-inspired production with a crew of over one hundred people styled by acclaimed fashion designer Geoffrey Mac, another industry icon who made his mark with Britney Spears, Ke$ha, and Nicki Minaj. A documentary directed by Paul Brickman on the making of this artistic achievement will titillate all those who have an interest in, let's just say, the macabre and the paranormal. By the way… Parental Guidance Suggested… uh, that's the title… in case any brain-dead admirers didn't get it.
Remember… it doesn't stop here. She announced a forty-city world tour, extending her "Every Night is Halloween Ball" into Europe, Australia, Canada, and the United States in 2013. Sharon Needles remains on the cusp of an international career as a performer, model, and songwriter. Her versatile talent will clearly take her to new endeavors within television, stage, and music.
In 2018, Sharon returns with a brand new Cd, to the stage and all the things she knows how best to do...to put on a show like no other.  Don't miss Sharon's first appearance at The Oriental Theater with a full-band performance to showcase this new batch of monumental recordings.
Lady Bunny

With her glitzy outfits, sky-high wigs and false eyelashes long enough to embarrass Tammy Faye Baker, multi-talented drag artist Lady Bunny would turn heads even if looking glamorous was her only talent. But "she" isn't just another man in a dress: Bunny is a successful comedienne, DJ, actress, singer/songwriter and most famously, the emcee and creator of Wigstock, the outrageous drag festival of drag and music which electrified New Yorkers every Labor Day for over 20 years. Wigstock featured almost every queen who ever worked in NYC, but also attracted more mainstream recording acts who just wanted to join in the fun–including Dee-Lite, Debbie Harry, Boy George, RuPaul, John Cameron Mitchell as Hedwig, The B-52s' Cindy Wilson, Crystal Waters, CeCe Peniston, Ultra Nate, Kristine W, Barbara Tucker and Vickie Sue (Turn The Beat Around) Robinson. Soon, the festival became known as a hipper version of Gay Pride Day.
Post-Wigstock, Bunny tours constantly, bringing houses down from Cinncinati to Tel Aviv with her bawdy mix of potty-mouthed humor, zany, Laugh-In-style joke routines and X-rated pop parodies. From headlining clubs to gay pride events worldwide, Bunny has been lucky enough to share a stage  with many of her idols–including Patti Labelle, Joan Rivers, Bea Arthur, Charo, Elvira, Lynda Carter, Chaka Khan, Jennifer Hudson, Grace Jones, Melba Moore, Jennifer Holliday, the late great Frankie Knuckles, Loleatta Holloway, Jocelyn Brown, Martha Wash, Larry Kramer and Margaret Cho.
Bunny's also made the leap to television and film, with appearances on Sex And The City, The Comedy Central Roast Of Pamela Anderson and in the feature films Dragtime (HBO), The Out List (HBO), To Wong Foo, Thanks For Everything Julie Newmar, Party Girl, Rupaul's Starrbooty and Another Gay Sequel: Gays Gone Wild. Most recently, Bunny played The Dean Of Drag for three seasons on Rupaul's Drag U and can be seen in the upcoming feature film My Dead Boyfriend opposite Heather Graham.

Bunny DJs at fashion events, club events, corporate bashes and hell–gay weddings and bar mitzvahs! Her specialty is nailing what your crowd wants to hear. As she always says, "Please give me requests because I'm spinning for your party and my goal is to get you on the dance floor. Besides, I can play what I want at home for free!" Guests go crazy when Bunny leaves the DJ booth to join the crowd on the floor–so you're basically hiring a DJ and a clown for the price of one! The Empire State Pride Agenda's latched onto Bunny as their regular DJ for almost a decade now, claiming that "We'd been doing this event for years but Bunny was the first DJ to get our crowd to dance." As the in-house DJ for Visionaire and V magazine, Bunny literally travelled the globe spinning atop the Eiffel Tower, Tokyo's Mori Tower, the Fendi Showroom in Milan, London's Harvey Nichols, The Delano in Miami and was the first DJ ever to spin at Paris's palatial L'Opera Garnier. This lead to even more high profile DJ gigs like Van Cleef & Arpel's 40th birthday bash in Paris and The Standard's Black Out Party in NYC celebrating Naomi Campbell's 25 years in fashion.
Like many DJs, Bunny moved into songwriting and has released two duets with RuPaul and a solo effort Take Me Up High, which hit Billboard's Dance chart at #18 in 20013. She's collaborated with Lonnie Gordon, Deee-Lite's Lady Miss Kier, electro pioneer Mann Parrish and legendary NYC DJ Disciple.This summer, Bunny has teamed up with the ultra-groovy Ursula 1000 for the seismic dance track Blast Off on the new Ursula album. It'll be released with remixes in August 2015. And a full-length solo album is in the works.
Bunny was a commentator in Star magazine's Worst Of The Week column for eight years, and has written for publications as diverse as Paper magazine, Interview, Out, Time Out and Visionaire magazines. Bunny was chosen one of the most stylish New Yorkers by V magazine, The Daily News and Time Out NY. She's interviewed subjects as varied as Scarlett Johansson, Marc Jacobs and Antony of Antony And The Johnsons fame. In recent years, this Lady has taken an increased interest in politics and social issues and has penned blistering pieces for Huffingtonpost with a decidedly liberal slant. After winning a few awards for her blog and many Facebook friends sick of her long diatribes telling her to "Write a book!", Bunny is currently penning a memoir.

There have been recent brushes with the art world as well. Most recently, Bunny DJed for a three day exhibit at Faena Gallery in Buenos Aires for a disco-themed art installation by assume vivid astro focus. And Bunny performed original music and conducted a heart-felt interview with pioneer video artist Charles Atlas called The Waning Of Justice at the Luhring Augustine Gallery. (Charlie's other documentary subjects include Leigh Bowery, Antony and Merce Cunningham.) And Bunny was delighted to be picked as one of of home decor guru Jonathan Adler's muses for his original Inspiration Points series after Jonathan designed a pitcher modeled after Bunny.
In the last three years, Bunny has created two one-"woman" shows at La Escuelita. Both That Ain't No Lady! and Clown's Syndrome were extended for months after sell-out crowds and a rave review from the NY Times' Charles Rooney which stated "Most of bunny's lines are unprintable here
but more than any performer I saw this year 'the old pig in a wig', as she calls herself, made me weep with laughter, often while groaning with disgust. And isn't that what the best low comedy is all about?" Clowns Syndrome earned this glowing review from Irish Central: "A downtown drag fixture for over two and a half decades, in her new show Clowns Syndrome the self professed "pig in a wig" has crafted the funniest, most engagingly thoughtful and by far the most entertaining drag show I have ever seen." Michael Musto called it "the funniest show in town." Both shows toured the globe from LA to Palm Springs to San Francisco to Fort Lauderdale to Provincetown to London to Puerta Vallarta four cities in Australia. Clown's Syndrome–It's Back And It's Worse! will be remounted this fall with updated material. 
Talented, glamorous and funny as hell, Lady Bunny is a glittering comet hurtling toward Planet Show Biz. Brace yourself for impact!