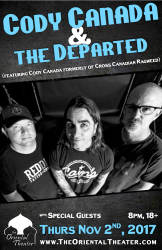 Cody Canada and the Departed (Featuring Cody Canada formerly of "Cross Canadian Ragweed")
with: Special Guests
Time: 8:00pm Day: Thursday Doors: 7:00pm Ages: 18+ / Bar with ID Price: $22

Showtimes
10:00 pm
Cody Canada and the Departed
Cody Canada and the Departed

***NOTE*** - This show is $30.00 at door in cash, $32.00 credit
Cody Jay Canada (born May 25, 1976 in Pampa, Texas) is an American southern rock/alt-country artist. From 1994-2010, Canada was the lead singer of Cross Canadian Ragweed. 
In 2011, Canada and Plato formed a new band, initially called Cody Canada & the Departed. The band consists of Canada (guitar/vocals), Plato (bass guitar/vocals), Seth James (guitar/vocals), Steve Littleton (keyboards) and Chris Doege (drums) who replaced original drummer, Dave Bowen. They released their first album in June 2011 titled This Is Indian Land, consisting of covers written by Oklahoma songwriters.
On August 24, 2012, the band, now billing themselves as The Departed, announced through their website and social media that they would release their first original album titled Adventus. The album was released on November 13, 2012.
In September 2012, the band announced that they would release one song from Adventus every Monday leading up until the album's release on their Facebook artist profile.
In 2014 the band announced a third studio album. Hippielovepunk was released on January 13, 2015. The album debut at #9 on the Billboard US Country chart as well as #9 on the US Indie chart. The first single was a return to the Red Dirt sound of CCR titled Inbetweener.
With a new disc on the way...Cody Canada and the Departed are touring America in 2017 and are proud to be playing at Denver's one and only Oriental Theater!