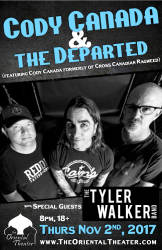 Cody Canada and the Departed (Featuring Cody Canada formerly of "Cross Canadian Ragweed")
with: Special Guests: The Tyler Walker Band
Time: 8:00pm Day: Thursday Doors: 7:00pm Ages: 18+ / Bar with ID Price: $22
This Event Has Ended
Showtimes
9:15 pm
Cody Canada and the Departed
8:00 pm
Tyler Walker Band
Cody Canada and the Departed

***NOTE*** - This show is $30.00 at door in cash, $32.00 credit
Cody Jay Canada (born May 25, 1976 in Pampa, Texas) is an American southern rock/alt-country artist. From 1994-2010, Canada was the lead singer of Cross Canadian Ragweed. 
In 2011, Canada and Plato formed a new band, initially called Cody Canada & the Departed. The band consists of Canada (guitar/vocals), Plato (bass guitar/vocals), Seth James (guitar/vocals), Steve Littleton (keyboards) and Chris Doege (drums) who replaced original drummer, Dave Bowen. They released their first album in June 2011 titled This Is Indian Land, consisting of covers written by Oklahoma songwriters.
On August 24, 2012, the band, now billing themselves as The Departed, announced through their website and social media that they would release their first original album titled Adventus. The album was released on November 13, 2012.
In September 2012, the band announced that they would release one song from Adventus every Monday leading up until the album's release on their Facebook artist profile.
In 2014 the band announced a third studio album. Hippielovepunk was released on January 13, 2015. The album debut at #9 on the Billboard US Country chart as well as #9 on the US Indie chart. The first single was a return to the Red Dirt sound of CCR titled Inbetweener.
With a new disc on the way...Cody Canada and the Departed are touring America in 2017 and are proud to be playing at Denver's one and only Oriental Theater!
Tyler Walker Band

The Tyler Walker Band remains one of the most sought-after country bands in the region, headlining clubs, events and festivals all across the Rocky Mountain region. Winners of 97.9's "Big Country's Got Talent" competition, the band is regularly ranked near the top on ReverbNation's country charts. They were also featured as the November 2013 Colorado Music Buzz Magazine "Artist of the Month" and have opened for such notable acts as country music legend Travis Tritt, country music stars Ty Herndon and Anita Cochran, as well as TV/music star Jana Kramer.
They were booked by Live Nation Entertainment in October 2015 to play the VIP Club at the Florida Georgia Line concert, featuring Thomas Rhett and Frankie Ballard, at the Isleta Amphitheater in Albuquerque, NM and will return in July 2016 to play at the Live Nation Rascal Flatts concert.
The Tyler Walker Band is a regular at such high profile events as "A Taste of Colorado", The Greeley Stampede, Cheyenne Frontier Days and The Colorado State Fair, as well as county fairs and festivals all across the region. The band is also in the regular rotation on "Write-A-Song Wednesday" on the highly-rated 98.5 KYGO Morning Show with Tracy Dixon.
The Tyler Walker Band features Nashville recording artist and songwriter Tyler Walker on lead vocals, Brian Sunde and Paul Trinidad on guitars and background vocals, Joe Marone on bass and Ryan Kimray on drums.