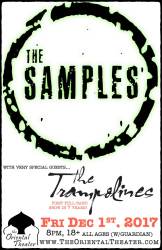 The Samples
with very special guests: THE TRAMPOLINES (1st Full-band show since 2010)
Time: 8:00pm Day: Friday Doors: 7:00pm Ages: 18+ / Bar with ID Price: $24
This Event Has Ended
The Samples

Sean Kelly & The Samples
25 years after starting his full fledged music career with The Samples, Sean Kelly continues to delight fans with music that transcends genres, age and shatters the rules of the established music industry. Throughout his career, Sean has been the driving influence of 20 albums and over 1 million records sold.
Sean started playing guitar at age 16 listening to Neil Young, Rolling Stones and Jackson Browne. Those influences mixed with his own poignant and timeless lyrics, a unique and striking voice and a mind for melodies led to songs like Little Silver Ring, Feel Us Shaking and Wild River. For many fans, these aren't new songs or old songs, but anthems to their lives that represent the first time they met their wife or the joys of their times at college.
The Samples are more than a band – they represent a culture of fans and music that go beyond who happens to be playing in the band at any given time. There have been many members of The Samples, but Sean Kelly has been the consistent factor throughout all of the changes.
Sean's journeys across America have taken place in rental cars, tour buses and pickup trucks that would have literally taken him to the moon and back over the last quarter of a century. There is a lot of music in store in 2016 and beyond from Sean Kelly and The Samples...keep your eyes peeled!
The Trampolines

The Trampolines are a Colorado institution.  Centered around vocalist/guitarist/songwriters...Chris Stake and Mark Sundermeier, the band has traveled the U.S. many times over as an acoustic duo and full band.  With three discs, a DVD and thousands of records sales from 2005-2010, the band cemented it's place in Colorado rock history.  They have played/toured with the likes of JAMES TAYLOR, EDWIN MCCAIN, THE FRAY, VANESSA CARLTON, BIG HEAD TODD & THE MONSTERS, THE BODEANS, MARC BROUSSARD, PAT MCGEE, AMOS LEE, SISTER HAZEL, JOHN WAITE, FASTBALL, THE NADA'S and yes...THE SAMPLES!  Back for a one off show (with all original members) in 2017...The Trampolines are proud to be a part of this fine line-up with their first full-band appearance since 2010!
The Trampolines catalog is available on iTunes and at www.Cdbaby.com
The Trampolines - Self Titled - 2005
www.cdbaby.com/cd/thetrampolines1
One Night Live - 2007
www.cdbaby.com/cd/trampolines
Between The Lines - 2009
www.cdbaby.com/cd/thetrampolines