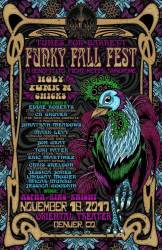 HomeGrown Productions Proudly Presents
Tunes For Barrett Funky Fall Fest
w/ music from: The Holy Fun N Chicks and Alpha King Knight
Time: 7:00pm Day: Saturday Ages: All Ages / Bar with ID Price: $20
This Event Has Ended
HomeGrown Productions Proudly Presents
Tunes For Barrett Funky Fall Fest
A benefit to fight Rett syndrome
Saturday Nov 18th at The Oriental Theater
With music from The Holy Fun N Chicks and Alpha King Knight
Holy Funk N Chicks is
Eddie Roberts (The New Mastersounds)
Cr Gruver (New Orleans Suspects, Polytoxic)
Jonathan Meadows (The Congress, Alpha King Knight)
Mark Levy (Circles Around The Sun, The Congress, Bonfire Dub)
Jon Gray (Supercolider)
Tori Pater (Dyrty Byrds, Polytoxic, Alpha King Knight Indigo Boys)
Eric Martinez (Dyrty Byrds, Bloodkin, Alpha King Knight Indigo Boys)
Chris Sheldon (DeadPhish Orchestra, Alpha King Knight)
Jessica Jones (MLIMA, Honey Puddle, Jessica Jones Project)
Lindsay Mosier
Micah Munro
Jessica Goodkin
___________________________________________________
Tunes for Barrett is a annual event held at the Oriental Theater with friends and neighbors of our amazing community getting together having fun for a great cause!
As many of you may already know Barrett Kammerer (age 11) was born with an A-Typical Rett Syndrome called CDKL5 variant. 
Rett Syndrome (RTT) is a unique neuro-developmental disorder which begins to show its affects in infancy or early childhood. It is seen almost exclusively in females, although it can occur rarely in boys. The disorder severely disrupts the development of gross and fine motor skills as well as robbing girls of their ability to speak and communicate with the outside world. Seizures and breathing problems can also be prevailing symptoms. 
It affects every aspect of a family's life, as these girls are dependent upon others for almost everything, from helping feed them to helping them get around, bathing, and most other daily tasks that most of us take for granted.