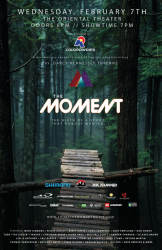 Colorowdies Mountain Bike Crew Present:
The Moment
This Way Up
Time: 7:00pm Day: Wednesday Doors: 6:00pm Ages: All Ages / Bar with ID Price: $15
This Event Has Ended
THIS WAY UP - 7:00pm 
The soon to be screened film 'This Way Up' tells the story of Andy McKenna's pharma-free face-off with Multiple Sclerosis and his quest for a holistic path to health. 
First-time filmmaker Andy McCandlish worked with Andy to share a 'broken' man's journey by bike through his homeland. Scotland. Through the film, McKenna and McCandlish share what they found.
THE MOMENT - 8:00pm 
In the backwoods of British Columbia, Canada, three small but dedicated crews of adventure seekers were quietly changing the course of a sport and carving their paths in history. And it was all happening unbeknownst to each other, the cycling world, and ultimately, themselves. This film is the origin story of a small movement of mountain bikers and filmmakers who rose up, challenged the status quo, and turned the sport of cycling on its head. This is a story that has never been told, told by the people who lived it firsthand.
**All proceeds will go back to the Colorowdies Mountain Bike Crew and Colorowdies Trail Crew. The funds generated from this event will buy tools, host trail building events and benefit the mountain bike community. 
Colorowdies will also be making a donation to Andy McKenna and Stoked on MS in partnership with the screening of his film 'This Way Up.' 
Children 12 and under free accompanied by an adult!