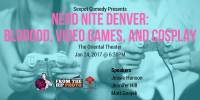 Sexpot Comedy presents:
Nerd Nite Denver
Time: 7:00pm Day: Wednesday Doors: 6:30pm Ages: 18+ / Bar with ID Price: $6
This Event Has Ended
If you are a fan of TED talks, the Discovery Channel, Wikipedia binges, and drinking, Nerd Nite Denver is the show for you!
LINEUP
What's Your Type? A History of Blood Transfusions by Jessie Hanson
No matter your type, you won't want to miss this fascinating historical journey. Jessie Hanson is a Medical Laboratory Scientist by day and a science communicator by night. She produces the Peer Revue comedy series, where STEM-field professionals take a crash course in standup comedy and then try it out, live and on stage!

Dash, Bang, Zap: The Evolution of Video Games by Jennifer Hill
Video games have evolved a great deal over the last few decades. From a simple game of Pong to sophisticated first person shooter and role-playing games. Technology advancements and amazing creativity have paved the way for exciting adventures from the comfort of your home. Video game lover Jennifer Hill guides us through this fun historical tale.

Cosplay Charity & How a Costume Can Make a Difference by Matt Gnojek (AKA Colorado Captain)
Community cosplayers are cape-wearing heroes capable of affecting positive change in the lives of people in the nation. Our very own Colorado Captain will give us a recap of his recent motorcycle charity ride, which spanned across 15 states, 4 hospitals, and raised $3000 for charity.