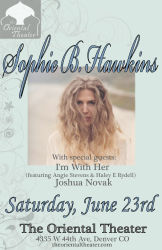 Sophie B. Hawkins
w/ I'm With Her (featuring Angie Stevens & Haley E Rydell)
also: Joshua Novak
Time: 8:00pm Day: Saturday Doors: 7:00pm Ages: All Ages Price: $13
This Event Has Ended
Showtimes
10:00 pm
Sophie B. Hawkins
9:00 pm
I'm With Her (featuring Angie Stevens and Haley E. Rydell)
Sophie B. Hawkins
Vulnerability underscored by grit. Strength sealed by fire. Mood driven by melody. Reconciliation that turns to inspiration.This is the territory of Sophie B. Hawkins' remarkable sixth album, which is at once the most directly personal, musically transporting and defiantly raw work yet from the Grammy nominated singer/songwriter.
Since her instantaneous 1992 breakthrough with the indelible hit single "Damn I Wish I Was Your Lover" and her acclaimed debut album Tongues and Tails, Hawkins has proved an enduring artist with a fierce commitment to constantly evolving, while remaining steadfastly true to her own authentic history and experience.
This comes to the fore as she breaks open her heart without reservation on The Crossing, her longawaited first album of new songs in several years. It is a searing, lush and startlingly naked chronicle of the most intense period of Hawkins' life, in which she has come to terms with her father's death, openly surrendered to the haunting specter of her past, discovered the exhilaration of motherhood and arrived at a profound reckoning of acceptance. All of this emerges in songwriting and vocals that mix the brashly playful and the unabashedly poignant in fresh ways for Hawkins.
The eleven songs on her upcoming album, The Crossing spilled out of Sophie B. Hawkins in a way she had never experienced before in a lifetime of diverse and critically admired songwriting – yet were so closely entwined with her very being, she confesses they felt at first like secrets that needed to be kept. "I didn't play these songs to anybody, not a soul, for a long time," she acknowledges. "But as I wrote, I developed deeper and deeper roots of strength. I felt it was time to do something that might scare me. And what I love about these songs is that they are very, very emotional but they aren't filled with baggage. There's something very unconscious about them, a letting go, and they seem to bring people a lot of joy." Hoping to sustain the stripped-bare honesty of how the songs were written, Hawkins created the album in a sonically hand-made way – recording entirely in her home studio and keeping the sparse, spontaneous immediacy of a demo-like sound. She engineered the album herself. "The album is entirely me with just drums, bass, guitar and flugel. I didn't hire a band – I just would meet one musician at a time and have them come to the house to record and it was a very spacious and organic process. I became an engineer really by instinct. I kept things very simple and told the musicians to just have fun. It felt like it unfolded all on its own — I really wanted to retain the feel of these songs that were written completely in the moment and I think we did. I felt lucky just to be there watching this be created."
Her first album, Tongues and Tails, full of primal, fiery pop, was an immediate success, earning her a Grammy nomination for "Best New Artist." Hawkins followed that with Whaler, which featured the smash ballad, "As I Lay Me Down," which remains the longest-running hit single in the Billboard charts in American history. The album, as equally gutsy as her first yet an atmospheric departure sealed her rising reputation for musical breadth and lyrical depth.
The roiling energy and close intimacy of Hawkins' live shows was captured in 2006's Bad Kitty Board Mix, a two-disc set recorded in Seattle. Spotlighting her improvisational instincts, Hawkins says she wanted this live album to be something different, "not just the songs you already know, but what they become in front of you, totally raw, exposed and new every night."
In 2008, Hawkins' life took one of its most dramatic and enlarging turns yet, as she became the proud mother of a son, Dashiell, now only 14 months old. "Becoming a mother gave me an amazing new perspective on being an artist," she muses. "There's an immense amount of truth and honesty and presence that comes out in our relationship. It's a constant reminder that the most beautiful thing you can ever do for another person is to fully, passionately and fearlessly express yourself and what you believe in."
I'm With Her (featuring Angie Stevens and Haley E. Rydell)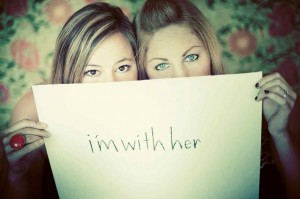 What should you expect when two established artists like Angie Stevens and Haley E. Rydell step away from their current projects and come together and collaborate? Both musicians were unsure, but excited at the prospect. As Rydell states, "I would be lying if I said I hadn't dreamt about working with Angie in a larger capacity than our previous impromptu performances. I had no idea what to expect, which in retrospect, I think was a good thing, because it left a totally blank canvas for us to work with." Stevens echoes her thoughts, "I wasn't sure what to expect. I have always been intrigued by Haley's writing style and musical abilities. I hoped it wouldn't be awkward!" And the band "I'm With Her" was born.
"I was surprised because it came together so easily. It felt natural and perfect," says Rydell. This should come as no surprise as both musicians bring a wealth of writing, recording and performing experience to the table. Stevens has released a live DVD and five CDs throughout her solo career and with her band "The Beautiful Wreck." Rydell has two recordings with "Haley E. & the Rydells" and another two with the Johnson Family Band. As part of this project, Stevens and Rydell are working on favorites from their individual catalogs, pulling in a few select covers and developing new songs. Rydell notes, "A lot of the music we worked on was new material, which was really fun, because even we didn't know exactly what we wanted to do with it yet. Over time, parts came together and it all made sense."
Both have a tremendous respect for the other and appreciate the uniqueness they bring. Stevens says of Rydell, "She has a musical interpretation I only dream of having. She can hear parts that I can't. She pushes me to be better musically." Rydell says this of her counterpart. "Angie brings a different vocal approach to our music."
More about Angie - Melding the influences of alt-country, indie-rock, contemporary folk and pop, Angie Stevens has settled comfortably into the shoes of an Americana artist with soul-bearing, live performances that have captured audiences all over the map. Stevens has gained national attention over the last few years following the releases of her first three albums. Her song, "Sleepwalking," was featured on HBO's "Big Love" and her video for "Stand Up Girl" was a pick of the week on CMT's "Top 20 Video Countdown."  Most recently, Eddie Bauer selected "Give It on Back" to accompany in-store video in First Ascent locations.
More about Haley - Born and raised in the flatlands of Fargo, Haley began playing the violin at the age of three and picked up her first guitar at thirteen. She taught herself to play and dreamed of someday playing in a band. For the past five years she has been the fiddle player for The Johnson Family Band and has led the folk rock group Haley E & the Rydells, both in Fargo, ND. She recently relocated and is now living the dream in Denver- writing and recording with I'm With Her.
Joshua Novak
Autodidact, Joshua Novak burst onto the Denver music scene in early 2000--young, carefree and seemingly touched with effortless pop magic. Since then, he has become a celebrated fixture of the scene. Recently, he placed in the top 20 out of 560 bands in the DENVER POST's BEST OF THE UNDERGROUND and received his sixth WESTWORD SHOWCASE nomination. Joshua is one of fifteen winners in the MODMUSIC RECORDS INDIE BAND SEARCH in N.Y. and has played RED ROCKS as part of the epic MONOLITH FESTIVAL which included acts like TV ON THE RADIO, VAMPIRE WEEKEND, THE KILLS, JUSTICE and others. 
He has shared the stage with the likes of LIAM FINN, ELF POWER, BRENDAN BENSON, EVAN DANDO, WOVENHAND, AZURE RAY, THE MOUNTAIN GOATS, THE FRUIT BATS, THE VEILS, TURIN BRAKES (etc..), and played Denver's best venues including The Gothic Theater, The Bluebird Theater, Hi-Dive, Larimer Lounge, The Oriental Theater, The Walnut Room and even at the famous club, The Bitter End, in New York City.
He has received sensational reviews in BILLBOARD MAGAZINE, WESTWORD, THE DENVER POST and THE ROCKY MOUNTAIN NEWS as well as notable on-line sources and music mags such as SYNTAX & INDIE-MUSIC.COM. 
Recently, Joshua's highly anticipated full-length album, DEAD LETTERS, was released to critical acclaim. Both the DENVER POST and WESTWORD included it in their best albums of the year lists for 2010. Joshua will be releasing his latest CD, "Ephemeron" in January 2013.