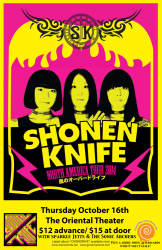 Shonen Knife
The Sonic Archers, Sparkle Jetts, 9 Volt Fatale
Time: 8:30pm Day: Thursday Doors: 8:00pm Ages: 16+ / Bar with ID Price: $12
This Event Has Ended
Showtimes
8:30 pm
The Sonic Archers
Shonen Knife

Shonen Knife  (meaning "Boy Knife" in Japanese) is an all-female Japanese pop punk band formed in Osaka, in 1981.  Heavily influenced by 1960s girl groups, pop bands, The Beach Boys, and early punk rock bands, such as the Ramones, the trio crafts stripped-down songs with simplistic lyrics sung both in Japanese and English.
Despite their pop-oriented nature, the trio maintains a distinctly underground garage rock sound rooted in edgy instrumentation and D.I.Y. aesthetics, which over the course of their long career has earned them a solid, worldwide cult following and made avid fans out of seminal '90s alternative rock bands such as Sonic Youth, Nirvana, and Redd Kross. The band has been credited with making "the international pop underground more international" by "opening it up to bands from Japan". They have also performed as a Ramones tribute band under the name The Osaka Ramones and have recorded music for numerous films including the theme song to the popular "PowerPuff Girls" cartoon series.
Shonen Knife has toured worldwide playing their unique brand of rock touring in the US, Canada, UK, Europe, Japan, China, Australia, Thailand and more moving forward and growing as a band with each and every release. Their 20th album release titled "Overdrive" will be released in spring of 2014 with a World Tour to support the new CD beginning in the UK in June (with N. American dates to follow this fall).
Sparkle Jetts


Sparkle Jetts Are Flying! Rock And Roll Soul Power!
Members: Whitney - Arlo - Hope - Chris