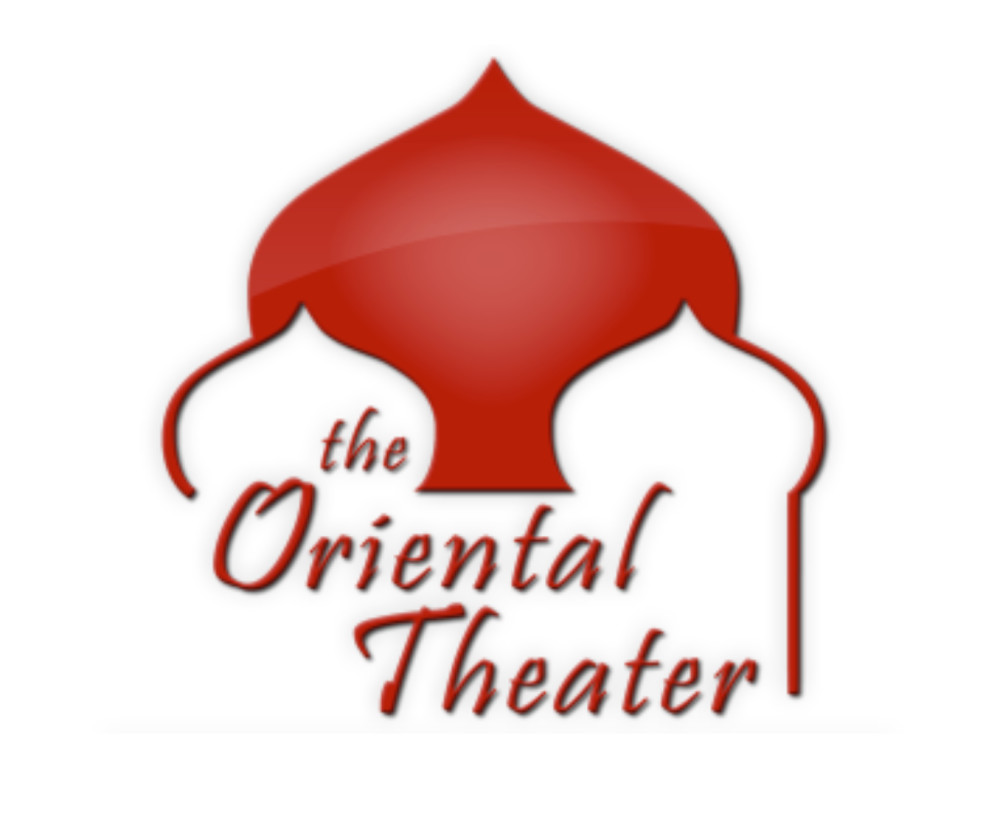 ---
PRODUCTION CONTACT:
Rick Ehmcke
RickEhmcke@gmail.com
Production Manager - The Oriental Theater
Address:
The Oriental Theater - 4335 W. 44th Ave, Denver CO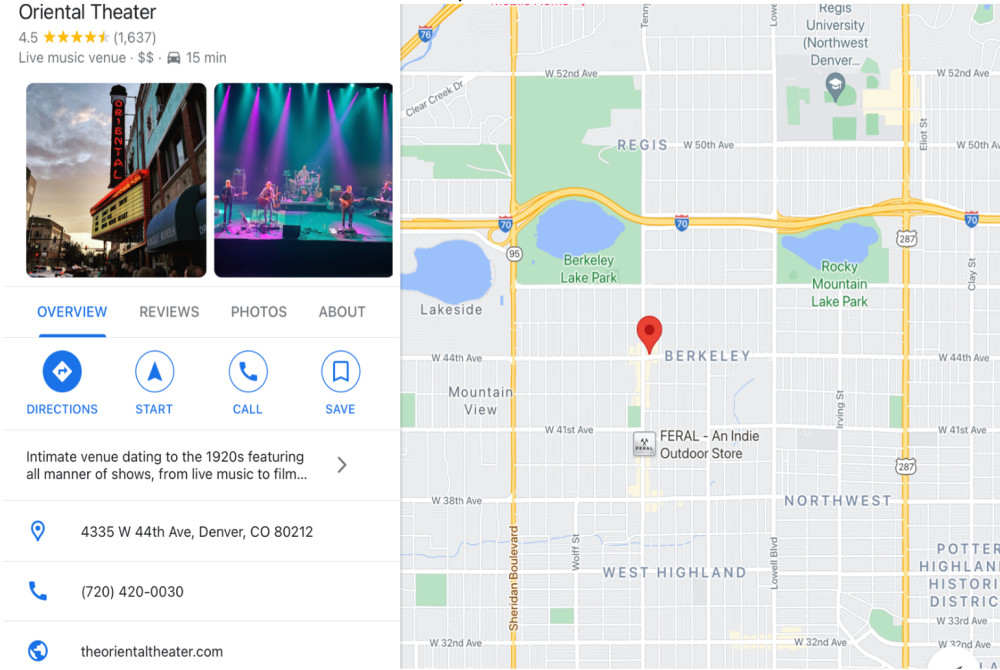 LOAD IN:
Load in is done through the stage door in the alley between 44th and 45th off of Tennyson. It is best to park (or double park) on Tennyson to unload into the alley and then the theatre.
* There is NO parking behind the theater or in the alleys surrounding the theatre* After unloading please move vehicles to agreed upon parking, or on the street in the surrounding neighborhood
PARKING:
*There is NO guaranteed parking at The Oriental Theatre*
*DO NOT DRIVE OR PARK IN THE ALLEYS SURROUNDING THE THEATRE* Parking Options are as follows
-In front of the venue on 44th (when available)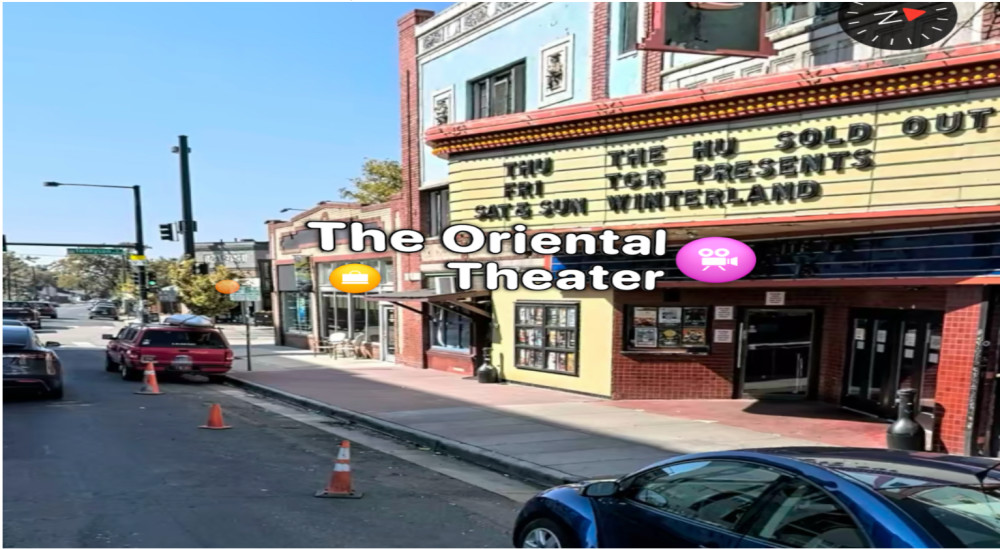 -The Berkeley Baptist Church 4050 W 44th Ave, Denver, CO 80212
Approx. 6 blocks east (0.20 miles) of the theatre * Available Per Advance ONLY *
 -On the streets surrounding The Oriental Theater
Please take note of the neighborhood parking restrictions
I.E. Daily 2hr and 3hr restrictions and street sweeping signage
*DO NOT DRIVE OR PARK IN THE ALLEYS SURROUNDING THE THEATRE*
PRODUCTION SPECIFICATIONS:
STAGE DIMENSIONS:
 32 ft. wide by 20 ft. deep with 1 8x8 wing (Stage Left)
BARRICADE:
30' Mojo style barricade
POWER:
Sound and Lights share 1 - 100 amp service
*Additional Power requirements MUST be advanced and will require generator rental*
DRESSING ROOMS:
2 total dressing rooms available
1 Green Room available in the building on stage right on the 2nd floor (stair access only) 1 private bathroom backstage left
1 Star Dressing Room available outside of the building across the alley from the stage door, with bathroom and some amenities (this can be locked, production has keys) There are NO showers or laundry on site (please plan accordingly)
HOSPITALITY AND LOCAL AMENITIES:
Please refer to this link for local restaurants, bars, etc.
https://theorientaltheater.com/page/the-neighborhood
Wi-Fi:
Venue – "Guest" Network does not require a password PBR Dressing Room – Network and password are posted
DB Limit:
There is a DB Limit of 102 DB at the FOH console
SOUND:
SOUND FOH:
CONSOLE: M32
P.A.: 4-way Stereo (Sub And Front Fill On Aux)
FLOWN SPEAKERS:
JBL Vertec VT4888 Dual 12" Midsize Line Array 6 boxes Per Side 12 Total
FLOOR SUBS:
6 Dual 18" McCauley
AMPS:
8 Chevin MB3000 - HF/MF 4 Crest 9200 - LF
3 QSC PL380 - Subs
MONITORS:
CONSOLE: X32
DIGITAL SNAKE: Cat5
ANALOG SNAKE:
SPLIT: S32 Digital Split - 32 in, 16 out
MIXES:
8 -Yamaha CM15V Passive 2-way
Wedges http://usa.yamaha.com/products/live_sound/speakers/passive_speakers/concert_club_vc_series/cm15v/?mode=model
1 - Dual 18" Drum Sub
AMPS:
4 - 2 ch Crown XLi 3500 (1000W @ 8 ohm / ch) for Wedges
1 - Crown XLS 2500 ( 2400W @ 4 ohm bridged ) for Drum Sub
MICROPHONES / DI BOXES: 2 Audix D6
1 - Sennheiser e901
3 - Sennheiser e904
SOUND Continued:
2 - Sennheiser e604
2 Rode M5 Matched Pair Small-diaphragm Cardioid Condenser Microphones 2 Rode M3 Small-diaphragm Condenser Microphones
2 - Sennheiser e609
8 - Shure SM58
2 Shure Beta 57
6 - Shure SM57
12 Passive D.I.
LIGHTING:
CONSOLE:
MA Command Wing with touch screen monitors (with visualizer)
CONVENTIONAL:
4 PAR 56 - House Lights
3 LEKO-FOH
*6 - PAR 64 for stage wash and position spot
LED:
*6 - Chauvet Intimidator Spot LED 350 4 - Venue THINTRI 38
*12 - Venue THINTRI 64
*Lights are dead hung 20 ft above upstage*
*House Lights are controlled by the Lighting Console*
ATMOSPHERE;
1 Ultratech Radiance Hazer
LIGHTING SNAKE:
2 line snake
1 house
1 guest line
FOLLLOWSPOT:
1 Eliminator LED Follow Spot w/ 8 Colors
VIDEO:
Projector: Panasonic PT-DZ12000U - 12,000 lumens, 3-chip, DLP, full HD (1920x1080 resolution) http://www.panasonic.net/avc/projector/catalog/pdf/PT-DZ12000U3.pdf Inputs: HDMI, VGA
32 ft. x 18 ft. Projection Screen
RIGGING:
BACKDROP:
40' Backdrop Pipe
Movie Screen (dead hung at 22')
RISERS:
6 - 4x8 to be used in any configuration 2 - 4x4
Variable leg heights / 1 set casters