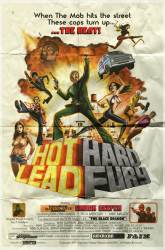 Hot Lead, Hard Fury (Film Premiere)
w/ Live music from THE FABULOUS BOOGIENAUTS
Time: 5:00pm Day: Thursday Ages: 18+ / Bar with ID Price: $11
All Associated Events
Hot Lead, Hard Fury (Film Premiere)
January 25, 2018 5:00 pm
- 8:30 pm
Hot Lead, Hard Fury (Film Premiere)
January 25, 2018 9:00 pm
- 11:45 pm
This Event Has Ended
"Hot Lead, Hard Fury" is a police actioner containing a mix of 1970's film genres such as eurocrime, martial arts, and blaxploitation-shot on Super 8mm film!
2 showings: 5pm & 9pm: Tickets $11 Adv & $14 Door
Showtimes
6:00 pm
Hot Lead, Hard Fury
5:00 pm
The Fabulous Boogienauts
Hot Lead, Hard Fury

About the Film:
Time-1970s: A deadly new synthetic drug, 'Voodoo Blue' has suddenly infested the streets of the gritty metropolis of Steel City. Crime kingpin Afro Steele, leader of a martial arts killer cult known as the Fang Brotherhood, is chief suspect in the new drugs' abundance. When undercover cop Cal Beefer tries to set him up, news of the drug sting is leaked and Cal is murdered. And so big brother, ex-cop Chuck Beefer comes to town for revenge. Amidst suspicion of corruption within the force, Police Capt. Columbus Jackson and Chief of Police Lou Braddock set up an unofficial 'phantom force' in order to take down Afro Steele and his Fang Brotherhood- and find the leak in the police force. They recruit Chuck Beefer along with a bitter and rough-edged ex-cop named Jack Hammer. With no badges, the two men dive deeper into the seedy underworld of Steel City and make their way through a cast of deadly and bizarre drug dealers, hired killers, FBI agents, and a gang of lovely and lethal ladies-only to realize just how high up the chain of corruption reaches- and how truly stacked the deck is against them.
The Fabulous Boogienauts
The Fabulous Boogienauts are a ten piece all-original power disco funk ensemble from the deep recesses of space. Hailing from the planet Boogus Prime in the heart of the Alpha Booty system, we have made Denver Colorado our official home since 1996. We released a studio album this past October 2013. Our new effort 12" Fully Funktional has been described as a masterpiece of song craft and creativity that calls all who have ears and heartbeats to get up and dance. We are actively performing local and mountain shows and are always looking to find new places to tear up. Come see us live.