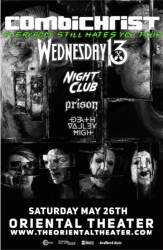 Anchors Aweigh Presents
Combichrist
w/Hydraform
Time: 7:30pm Day: Saturday Doors: 7:00pm Ages: All Ages / Bar with ID Price: $24 - $150
This Event Has Ended
Combichrist
"I'm so sick of unicorns," says Combichrist's Andy LaPlegua about the song "Fuck Unicorns" from their new album We Love You (Out Of Line [EU]/Metropolis Records [US]). "They went from being something ironic and ridiculous, to an overexposed hipster icon. Fuck unicorns!"
In some ways, the peaceful and gentle unicorn can be seen as the symbolic opposite to Combichrist. To them, music equals mayhem and volume; the louder and the more aggro, the better. Their brand of head-pummeling electronica has been amped up and adrenalized. There are louder guitars, heavier drums, darker electronics and a lot more anger.
Kicking off the album is the disjointed and anthemic "We Were Made To Love You." LaPlegua imagines a "futuristic robot-controlled society", slowly setting up the listener for 13 tracks of relentless aggression and bass heavy electronica. From the stuttering thump of "Every Day Is War" to the choking-on-glass/buzz-saw aggression of "Satans Propaganda" to the breakneck punk metal of "Love Is A Razorblade", We Love You leaves you gasping for breath. The searing first single "From My Cold Dead Hands" is a crash course in everything We Love You delivers. It's a paean that glorifies guns and the power they wield, and is as much a midnight dance-floor anthem as it is a personal statement devoid of the tired politics that accompanies the topic of guns. "I'm not a politician, and I don't expect my politicians to make music," he explains. "However, people are so afraid to say what's on their mind if it's not PC. I believe in the rights to have guns, and I believe in personal freedom."
Initially cutting his teeth in the seminal Norwegian hardcore bands My Right Choice and Lash Out, LaPlegua segued out of that scene into the electronic music world with Icon of Coil. Originally a solo project, it morphed into a full band with the additions of Sebastian Komor and Christian Lund. Not only did IOC mark LaPlegua's first major work with electronics and dance beats, but it also granted him wider exposure beyond Norway; IOC was LaPlegua's first project to be released in the United States.
It wasn't until 2003 that LaPlegua founded Combichrist - the project that would soon dominate his time. A departure from IOC's futurepop sound, Combichrist took LaPlegua's hardcore past and electronica present and merged them into a singular, mechanical music monster. Without the compromise of the band dynamic, LaPlegua, who does everything in the studio himself on Combichrist releases, was able to explore whatever musical avenue he desired. What he found was a long dark road with plenty of twists and turns. The Joy of Gunz, LaPlegua's first release as Combichrist, was quickly followed by two EP's: 2004's Kiss the Blade and Sex Drogen und Industrial.
In 2005, LaPlegua was back at it again, releasing the landmark album Everybody Hates You. Defying the dreaded sophomore slump, the second Combichrist full-length featured two tracks that would become club classics: "This Shit Will Fuck You Up" and "This Is My Rifle", and was also the project's U.S. debut on Metropolis Records. Further benchmarks were set with the release of the 2006 EP Get Your Body Beat, the title track of which landed Combichrist its first appearance on Billboard's Top 10 Dance Singles chart.
The years that followed brought three more full-length albums - What the Fuck Is Wrong with You People? (2007), Today We Are All Demons (2009) and Making Monsters (2011) - as well as a handful of additional EPs. Following the release of Making Monsters, they promoted it loudly by accompanying German friends Rammstein on a North American stadium tour, expanding their audience even further. At the tail end of 2012, LePlegua was commissioned to write the music for the CapCom videogame DMC Devil May Cry, resulting in over 20 tracks, many of which appeared on the soundtrack album No Redemption. Not really a follow-up to Making Monsters, yet not really a side project, No Redemption was intentionally harder and more metal than anything that had been released previously. While it resulted in mixed reactions from fans and critics, No Redemption managed to topple the adversity and enjoyed a successful run. Stretching their musical scope even wider, in late 2013 the band performed with a symphony orchestra in Leipzig as part of the Gothik Meets Klassic Festival. Paying homage to their history, they completed a series of "old school" shows to remind fans of their illustrious electronic roots.
With We Love You in queue to usher them into the next chapter, Combichrist is ready to return to the road with a new live show that showcases all facets of the band. And like all previous albums and tours, the fans can expect pure and unadulterated Combichrist. "One of my best friends said it the best, 'listening to this album sums up everything I know about you and music'," he laughs, "only bigger, more bombastic and even louder!"