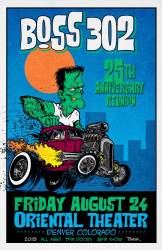 Anchors Aweigh Presents
BOSS 302 - 25th Anniversary Reunion Show
w/ The Landgrabbers & The Vanilla Milkshakes
Time: 8:00pm Day: Friday Doors: 7:00pm Ages: All Ages / Bar with ID Price: $10
This Event Has Ended
Boss 302 began in Denver in early 1993 and by Summer of that year were a sensation for their refreshingly fun, irreverent and energetic rock shows at venues like the Lions Lair and Seven South. 





For the time they were a completely unique mix of old school garage rock and punk, jangly 80's college rock and contemporary trash rock. Along with, and perhaps most importantly, a sincere (and humor-filled) celebration of full-on FM hard rock which embraced the kind of showmanship that caught nearly everyone off guard -- prompting a range of reactions from excitement to sheer disgust among the underground music fans of the day. Even when too drunk to play they always stood out, and still do after decades of imitators have wandered off with all the loot. 





Two full length l.p.'s, a smattering of seven inches, a live EP, countless live shows and 25 years later they are back for a one of a kind reunion. Older, sure but fully prepared to bring the Rock like still nobody else can. This is the lineup that wrote and recorded their second, and many think finest l.p., Whatever Happened to Fun, in 1997-98...same guys. They'll also play several cuts from their first, and many think their finest l.p., Rock Songs, along with early singles and they will do it well, believe me. There are no new recordings, no attempts at a rejuvenated relevance -- just the good stuff that's still relevant because they invented it. You've either heard of the legendary performances or were there for them: now's the chance to see and hear the real deal done by the actual band. 




BOSS 302  
Showtimes
8:00 pm
The Vanilla Milkshakes
Boss 302

In an age when rock and roll strikes some observers as increasingly passe, the members of Denver's Boss 302 still believe it's worthy of praise. Lead singer Rich Groskopf takes every available opportunity to call rock "the premier music genre." Later, when Groskopf and the other Bosses (guitarists Garrett Brittenham and Cheyne Bamford, bassist Alan Miller and drummer Jason White) are asked whether they prefer sex, drugs or rock and roll, they unanimously choose rock.
"With beer coming in second," Miller adds. "If that counts as a drug."
Boss 302's music certainly does. The band has attracted a legion of loyal fans thanks in large part to the dueling guitars of Brittenham and Bamford and the 4/4 timing of the Miller-and-White rhythm section.
The group may worship at the altar of Ozzy Osbourne, but its sound has most often been compared to that of the Dead Kennedys. But Groskopf's lyrics are more universal than Jello Biafra's: "They're mostly about girls and the way people treat each other," he says. "I don't mean to sound corny, but people are kind of nasty to one another." Nonetheless, he avoids preachy or political issues because, he claims, "we figure there's plenty of people handling that already."
Like members of many Denver bands, Groskopf, Brittenham, Miller and White met in high school and jammed together through college. By February 1993 the foursome was serious enough about music to advertise for a second guitarist--and, Groskopf says, "Cheyne was sent from on high. The ad said that we were into the Modern Lovers, Mudhoney and the Feelies. I guess we figured we'd get the right person. And he was."
Following a great rock-and-roll tradition, the fivesome named their band after a car. And not just any car: According to White, a writer for the area publication the The, as well as the group's automotive expert, a Boss 302 is "a Mustang that was made in the late Sixties/early Seventies. It wasn't only the car, it was also the engine they put in the car. There was a Boss 429, too."
"At the first open stage we played," Groskopf interjects, "some super-drunk biker guy in his forties said, `You guys are cool, but why don't you call yourselves the Boss 429s? It was a much more impressive engine.' But it didn't have the right ring to it. We liked Galaxie 500 a lot. We don't sound anything like that band, but we thought it was a cool name."
Soon, Boss 302 began earning a reputation as a local band's local band; today, practically every Seven South show or Lion's Lair gig the quintet performs is well attended by members of other Denver acts. "We just started playing, and those guys just started showing up," Brittenham explains.
White feels this kind of fraternization is unavoidable in what's becoming a close-knit scene. "Most all my really good friends are in bands," he says.
Boss 302 takes a lighthearted, common-man approach to performing. Groskopf, whose stage gear makes him look like a Nazi Pillsbury Doughboy, makes a practice of passing out gum to audience members as what he calls a "friendly sort of hello." Likewise, his between-song banter is as entertaining as the band's music. He throws plenty of sarcasm into the masterful announcer's voice he uses when introducing numbers or explaining technical difficulties. He even knows what seem like authentic Deutsch phrases--but ask for a translation and Groskopf (who says his surname means "big head") is forced into a confession.
"That's not real German. I was making that up. I can do French, too." To prove his point, he begins kissing White's arm while mumbling romantic-sounding nonsense a la Gomez Addams.
Boss 302's self-titled, five-song cassette, released this summer, is delivered in English and offers a good representation of the band. The tape kicks off with "Funny Funny," highlighted by bursts of Ramones-like background vocals, and concludes with the appropriate "Rock Song (Spirit of Rock)." The latter tune is immortalized in a video that Groskopf shot and edited while attending film school at the University of Colorado-Boulder last year; he likens it to old Beatles movies. It's very "retro," he says. "We're goofy and fun and we don't take stuff seriously."
And there's nothing passe about that.
-Westword 1994
The Landgrabbers

We have created a monster. A monster so hideous fathers buy ammo, mothers weep, and daughters swoon. A monster so fierce, it shoves punk, country, and metal down the throats of Denver's unsuspecting citizens.....And the citizens are thankful.....They are also confused. What kind of monstrosity can meld such polar opposites? How can this rock and roll behemoth combine the uncombinable? The answers lie not in what the monster is, but in what it is not. It is not a monster. It is a Grabber. This Grabber takes the best of punk, country, and metal and creates sounds so on point angels from both above and below hang their heads in jealous shame. The only thing left to Grab is territory. 
We are Landgrabbers.
We are coming.
You are welcome.