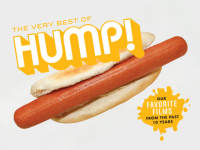 Dan Savage Presents
The Very Best of HUMP!
Our Favorite Films From The Past 10 Years
Time: 7:30pm Day: Friday Doors: 7:00pm Ages: 21+ Ages Price: $20

10 Years of The Very Best of HUMP!:
This year we are touring a few cities with the very best of HUMP! We have selected some of our (and audience) favorites from 2008 through 2017. We reached out to the filmmakers and were able to have them resubmit their films to us for this very special mini tour!  Tour cities include Seattle, Portland, Vancouver BC, and Chicago. See below for tickets!
The Best of HUMP! 2008 to 2017 Films
To kiss or not to kiss? That is the question two women must explore after one rims the other. Lesbian processing has never looked so good.

And now for something artsy. An expert shows us the beauty of flame on (un-burnt, professionally done, don't try this at home) flesh. This one will have audiences squirming in their seats.

This animated celebration of body parts is more comprehensive a lesson in anatomy than anything you learned in school!

Tuff Titties: Motor Boys, 2012

Hold on to your dipstick! Two sweaty mechanics spend an afternoon blowing valves, lubing tailpipes, and checking under each other's hoods.

Years' worth of home video from two massively horney burners condensed into three unforgettable minutes of furry hats, glitter, and blowjobs galore.

A morning self-love session ends with a surprise twist (that probably wouldn't surprise anyone).

This hot gay sex rewind/infinity loop starts with a come shot and ends with a man in bed watching the sex he'll be having later on his laptop. Ass-pounding and mind-bending!

A spoken-word poet takes us on an erotic journey of our most carnal desires.

Mr. Goldberg would have never imagined that his contraption would trigger such a sexy chain reaction!

Some true love stories have more… well… provocative beginnings than others. Such is the case with this endearing San Francisco couple.

Clean up on aisle 4! A night manager's penchant for produce leads to a sticky-floored fantasy.

A man opens up about his disturbing collection. A truly jarring film.

A cynical dick takes on a challenging head case.

Two feral queer foxes frolic, finger, and fuck in their natural habitat.

More powerful than Lara Croft, Mona Sax, and Zelda combined, one video vixen takes on the evils of misogyny, body shame, and bad sex.

A HUMP! film you will NEVER forget. What's a boy to do after some hot early morning sex? Make his man something equally hot for breakfast...

Two hot gay seamen do a lot more than sailing. Vintage style paired with classic fuck.

What did you do last summer? This hot sporty couple fucked at Burning Man, climbed some rocks and fucked on top of those, they even fucked in the sky. Their sex conquers all summer activities and it's hot as hell!

A Pervert's Guide to Avoiding Loneliness, 2016

Remember your college friend who would pick up a guitar at every party? Well, he got himself an accordion—and a jock strap—and now he's going to sing us a song about how his long list of kinks have complicated his love life…

What happens in an office cubicle doesn't always stay in an office cubicle, as proven in this phone sex session!

Kinky Tumblr girls shot a Lynchian porn! Get ready for sexy, scary, and simultaneously adorable nightmares.

The ghost of boyfriend past haunts a trashed mattress.
Showtimes
8:00 pm
HUMP! Film Festival