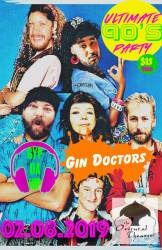 Ultimate 90's Party!
Ultimate 90's Party
W/ Gin Doctors, DJ Gyp Da Hip
Time: 9:00pm Day: Friday Doors: 8:00pm Ages: 18+ / Bar with ID Price: $15
This Event Has Ended
We are pairing one of the cities best MeanTeam DJs, GypDaHip, with Denver's favorite 90's tribute band, The Gin Doctors, to bring you the Ultimate 90's Party. Start your night out showing your friends your attempt at the butterfly while GypDaHip throws down all of your favorite 90's hip hop songs before you bear witness to grown ass men singing their hearts out to The Gin Doctors playing hits like "Iris" by The Goo Goo Dolls. We have everything a 90s fan could want from Sublime and Weezer to Notorious B.I.G, to The Fugees to Beck to Pearl Jam to Usher to Blink 182. Throw on your Doc Martens and your flannel or your Starter Jacket and Jordans and come on out. 
**The Gin Doctors are a 4 piece award winning 90's band from Denver, CO. The members are Andrew Aranow (drums), James Morrison (Bass), Tyler Briskie (guitar, vocals, keys), and Jen Korte (guitar, vocals). After forming in 2013, the bands following and reputation quickly blew up and they became a favorite go to for their fans. Starting out playing whole albums from beloved bands like Pearl Jams "10", Green Days "Dookie", Weezers "Blue Album" and "Pinkerton," the band grew their catalogue to include anything and everything from the 90's. From Spice Girls to the Foo Fighters, from the Fugees to Jane's Addiction, they were a guaranteed party. The band reached local success quickly, winning Best Tribute Band of Denver 2015 and 2016 until the sudden loss of their friend and co-front man, Tyler Despres. After the unexpected and heart wrenching loss of Tyler, the band wasn't sure if they would continue. For his memorial, they invited their good friend, Jen Korte, to help front the band for what seemed to be their last show. After a year break, the fans and the band missed being together more than anything. They invited Jen to join the band and to revitalize the love and fun of The Gin Doctors. Since then, they have performed  for thousands of people all over Colorado and put on one hell of a show.
**Gyp Da Hip has as much talent as he does swag. His joyous love of hip hop has put him on the same stage as Flying Lotus, NAS, and Black thought to name a few. A founding member of the DJ collective, MeanTeam Dj's, he has flawlessly hypnotized dance floors with his ability to cross any genre at any point while keeping the crowd dancing.