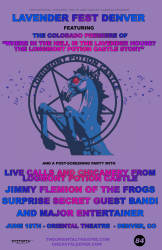 THE 84, THE ORIENTAL THEATER & UNEASY SLEEPER PRESENT:
Lavender Fest Denver:
Featuring: Where in the hell is the Lavender House? The Longmont Potion Castle Story (Film Screening)
LIVE CALLS AND Q & A WITH LPC AND FILMMAKERS TO FOLOW THE SCREENING! - Hosted by MAJOR ENTERTAINER
Plus a Live Perfromance by JIMMY FLEMMION OF THE FROGS! & MORE TBA!
Time: 7:30pm Day: Tuesday Doors: 6:30pm Ages: 18+ / Bar with ID Price: $15 - $120
This Event Has Ended
An unpaid camera operator is left to finish the film a bumbling pair of filmmakers attempt to make about the greatest anonymous phone-work artist of all time - Longmont Potion Castle. 
Featuring interviews with Rainn Wilson, Andrew Bujalski, Pissed Jeans, Municipal Waste, NBS Electronics, Twist and Shout, Pig Destroyer, Weyes Blood, Cattle Decapitation, Pinback, and a variety of hard-core fans, 'Where In The Hell Is The Lavender House: The Longmont Potion Castle Story,' peeks behind the curtain of America's Underground Prank Call King, and documents a film doomed to fail from the beginning. 
About Longmont Potion Castle 
The LA Record describes Longmont Potion Castle's albums as unlike those that most people associate with prank telephone calls, citing that his demeanor is nothing at all like that of The Jerky Boys and Crank Yankers and is actually closer to that of the alternative comedian Neil Hamburger.In a review from the Denver Westword, LPC's recordings are described as advancing "absurdity as an art form." 
The anonymous artist has himself described the albums he has made as "phone work" or "absurdist" art rather than the less sophisticated label of "prank phone calls", and has also said, "They may be dumb, but they're not stupid". Those on the receiving end of a Longmont Potion Castle call are often left confused and/or extremely angry, as the calls frequently involve complaints about noise, requests for money or offers to "whoop" somebody. However his calls are rarely very mean-spirited in nature. His recordings combine prank calls with sound collages and his own musical compositions, the majority of which are thrash metal instrumentals. Occasionally, Longmont Potion Castle filters his voice through a Digitech RDS 8000 rack-mounted digital delay unit to produce odd sound effects, thus making whoever he has called even more confused. 
In 2006, Longmont Potion Castle announced his retirement. In an interview with The Nerve Magazine, he explained that the box set Longbox Option Package would be the final LPC release. However, in 2008 he released a new CD, Longmont Potion Castle Volume 6. In 2009, he released Volume 7 (not to be confused with his 2005 album of the same name released as a part of the Longbox Option Package box set, a disc that contained only thrash metal music). The album featured several celebrity calls, including ones to singer Eddie Money, Jeopardy! host Alex Trebek, and guitarist Rick Derringer. January 2011 saw the release of LPC 8, in which the artist primarily used Skype on a laptop computer to record the calls.
Showtimes
9:00 pm
Jimmy Flemion (of the Frogs)
7:30 pm
Longmont Potion Castle Story
Jimmy Flemion (of the Frogs)

With his brother Dennis, Jimmy Flemion concocted one of the most singular and slyly provocative acts of rock music – The Frogs. Their dark humor and biting satire – moored by an impossibly catchy and copious catalog of songsmithery – is championed by indie cognoscenti and arena rock stars to this very day. Their sartorial flourishes and outrageous performances are rightly the stuff of legend, as is their video work that riffs on the ribald. While their 32-year run together was cut short by Dennis' untimely passing in 2012, Jimmy has continued on with his songwriting, and in 2017 he regaled a lucky audience in Austin, Texas with a Frogs set dedicated to – and featuring songs penned by – his brother. As 2019 sees him readying the final Frogs studio album, and preparing to celebrate the 30 year release reissue edition of a certain crucial Frogs LP, Jimmy starts the year with a performance in Los Angeles at Zebulon. This special evening will begin with a screening of rare, never-before-seen video from The Frogs' archive.
Longmont Potion Castle Story