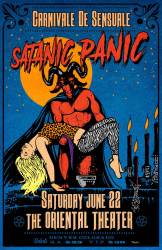 Carnivale De Sensuale: Satanic Panic. ****** SOLD OUT******
Headliner and Co-Producer: Red Rum
VIP Black Mass Experience with Miss Claire Voyant
Time: 8:00pm Day: Saturday Doors: 7:00pm Ages: 18+ / Bar with ID Price: $10 - $150
This Event Has Ended
Carnivale De Sensuale & Red Rum bring you a unique burlesque/performance art experience:  Carnivale De Sensuale: Satanic Panic
Come with us on a journey through the seemingly never ending Satanic Panics that have occurred across North America....from the Salem Witch Trials of the late 1600's, through the backlash against horror movies, heavy metal music, and dungeons and dragons in the 1980's, to modern day conspiracy theories of satanic cabals operating out of pizza shops.
Doors at 7pm
Curtain up at 8pm
VIP ONLY: Black Mass Experience with magician/mentalist Miss Claire Voyant directly following the show!
Showtimes
8:00 pm
Carnivale De Sensuale
Carnivale De Sensuale
Carnivale De Sensuale is a modern twist on the classic traveling carnival's of the 20's & 30's with Burlesque, Magic, Aeralists, and Singing!