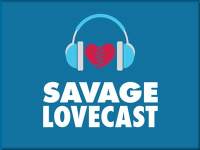 Savage Love Live
with Dan Savage, guest comedian Corina Lucas and musical guest Carsie Blanton!
Time: 8:00pm Day: Saturday Doors: 7:00pm Ages: 18+ / Bar with ID
This Event Has Ended
Dan Savage is an author, sex-advice columnist, podcaster, pundit, and public speaker. Dan is a regular contributor to public radio's This American Life and a frequent guest on MSNBC, CNN, Real Time with Bill Maher, and other programs."Savage Love," Dan's sex-advice column, first appeared in the The Stranger, Seattle's alternative weekly, in 1991. The column is now syndicated to more than 50 papers across the United States and Canada. In 2006 Dan launched the Savage Lovecast, a weekly, call-in advice podcast. It is now one of iTunes top 50 podcasts. Dan's graphic, pragmatic, and humorous advice has changed the cultural conversation about monogamy, LGBT rights, kink, religion, and politics.The Savage Lovecast will return to Denver for a live performance of Dan Savage's popular sex-and-relationship-advice podcast! Join Dan, Nancy, the tech-savvy, at-risk youth and get all of your questions answered live on stage. With special musical guest.
Corina Lucas is a Portland comedian with a high-energy style that leaves audiences in stitches. She was raised in the suburbs and went to Catholic school so, naturally, her material is filthy. She placed third in the 2018 Portland's Funniest Person Contest at Helium Comedy Club, the Portland Mercury named her one of their 'Undisputable Geniuses of Comedy' and the Willamette Weekly named her one of the five funniest comedians in Portland. She has been on the Portland Queer Comedy Festival, the All Jane Comedy Festival and SF Sketchfest. She was featured on the Epix original series 'Unprotected Sets' and cohosts 'The Alliance', one of Portland's most successful weekly showcases. Her butt has been described as 'breathtaking'.
Carsie Blanton - "Unfashionably chirpy, unabashedly horny" (Robert Christgau), Carsie Blanton is currently touring behind her February release Buck Up. Ken Tucker from NPR's Fresh Air says that Buck Up is shaping up to be one of [his] favorite albums of the year." In addition to her songs, Carsie is known for her blog which tackles questions of love, sexuality and creativity and her taking-about-sex card game, The F'ing Truth, that Dan Savage calls "an f'ing blast" that is currently available at Urban Outfitters stores across the country.