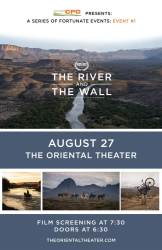 StudioCPG presents "A Series of Fortunate Events": Event #1:
The River and the Wall (Film Screening)
Time: 7:30pm Day: Tuesday Doors: 6:30pm Ages: All Ages / Bar with ID
This Event Has Ended
Please join us for an exclusive one-night only screening of "The River and The Wall", which follows five friends on an immersive adventure through the unknown wilds of the Texas borderlands. Conservation filmmaker Ben Masters realizes the urgency of documenting the last remaining wilderness in Texas as the threat of new border wall construction looms ahead. Masters recruits NatGeo Explorer Filipe DeAndrade, ornithologist Heather Mackey, river guide Austin Alvarado, and conservationist Jay Kleberg to join him on the two-and-a-half-month journey down 1,200 miles of the U.S.-Mexico border. They set out to document the borderlands and explore the potential impacts of a wall on the natural environment, but as the wilderness gives way to the more populated and heavily trafficked Lower Rio Grande Valley, they come face-to-face with the human side of the immigration debate and enter uncharted emotional waters.
The River and the Wall
 The River and The Wall follows five friends on a 1,200 mile journey along the US-Mexico border from El Paso to the Gulf of Mexico.  Riding horses, bicycles, and paddling canoes, they travel along the Rio Grande and meet with landowners, border patrol agents, congressmen on both sides of the aisle, immigrants, wildlife biologists, and folks on either side of the Rio to better understand where a physical border wall would go and the impacts it would have.  The immigrant stories of two of the characters are interwoven through the journey, humanizing the controversial topic of immigration, while they travel through a landscape that could soon crumble to a wall intended to keep them out.  Told through stunning cinematography of landscapes and cultures rarely visited and often demonized, The River and The Wall takes viewers on an unforgettable border journey into the most controversial and talked about topic in the world today: the Border Wall.  You will never look at the border the same again.