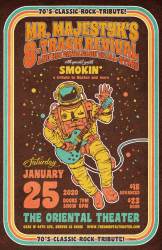 Mr. Majestyk's 8-track Revival - A Musical Tribute to the 70's
W/ Smokin (Boston Tribute)
Time: 8:00pm Day: Saturday Doors: 7:00pm Ages: All Ages / Bar with ID Price: $18 - $100
This Event Has Ended
Mr. Majestyk's 8-track Revival - A Musical Tribute to the 70's

W/ Smokin (Boston Tribute)
Showtimes
9:00 pm
Mr. Majestyk's 8-Track Revival & His Calvalcade of All-stars
Mr. Majestyk's 8-Track Revival & His Calvalcade of All-stars
What do you get when you come to see a Mr. Majestyk show?  You get "Grade A" performances of musical masterpieces from the 70s.  That's right kids...this means tunes that you may not often hear these days.  From ELO, Alice Cooper and Zeppelin to Nick Gilder, Gary Wright and Sweet...it's all here in the Mr. Majestyk catalog.   

It is not about what music is good and what music is bad, and it isn't about comparisons.  It is about Mr. Majestyk's 8-Track Revival (MM8TR) delivering 100% top fuel analog Rock & Roll with a side of 70s AM Pop Gold. 

Their song lists were carefully engineered to capture the true essence of the 70s and evoke great memories from a time when music was raw and untarnished.  The band drills deep for the songs you really loved when you were growing up (along with 70's rarieties).  These are the songs that blasted from the 8 track player of your 1970 Dodge Challenger as you hurled through the streets of summer.  Now these gems live forever within the MM8TR machine!  Their live show is like none other...this is one that you won't want to miss folks!
"Their sound is as arresting as the spectacle they deliver in person. It's a local "superband" of funktasm." - Yellowscene Magazine