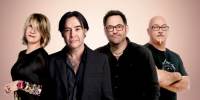 SWALLOW HILL MUSIC PRESENTS:
*** POSTPONED ***
CRASH TEST DUMMIES
Elizabeth Moen
Time: 8:00pm Day: Monday Doors: 7:00pm Ages: All Ages / Bar with ID
This Event Has Ended
Swallow Hill Presents: Crash Test Dummies
with Elizabeth Moen
Crash Test Dummies
Canadian rock band Crash Test Dummies will reunite for the first time in 17-years to celebrate the 25th anniversary of their seminal sophomore album God shuffled His Feet. The north American tour will launch November 23 and will feature the original line-up of Brad Roberts, Ellen Reid, Dan Roberts, and Mitch Dorge.
"After a huge hit in Canada with our folksier debut album, our next effort was dubbed 'too new a sound' by our Canadian compatriots. In America however, it managed to pique the interest of a new and frankly much larger group of listeners and soon 'MMM MMM MMM MMM became a bonafide hit south of our border, and eventually all over the world," says Brad Roberts. "It was a wild ride for us that year. Now we're celebrating the 25th anniversary reuniting with our original line-up and dusting off our old set lists. It will be the first time we've toured with the full band since 2001, and we're very excited about it."
The 1993 platinum selling and Grammy-nominated album God Shuffled His Feet hit number-one in Austria and New Zealand and also reached the top five in the national albums charts of numerous countries including Australia, Norway, Sweden and Switzerland. The album reached number six in the Netherlands national albums chart, number 2 in the UK and broke the top ten landing at number 9 in the United States Billboard 200 albums chart. God Shuffled His Feet features their most unusual and highly popular single, "Mmm Mmm Mmm Mmm" as well as other fan favorites XX and XXX. The memorable cover artwork featured the superimposed the faces of the band atop figures in the Titian painting "Bacchus and Ariadne."
In 2008 Consequence of Sound featured GSHF in their Guilty Pleasure column stating:
God Shuffled His Feet made the Dummies famous worldwide with a handful of folk-rock songs that shattered the perception of what rock radio could play. "Mmm Mmm Mmm Mmm"-yeah, the humming song about blue hair and birthmarks-had everyone from soccer moms to metal heads singing along and tapping their toes. "Afternoons and Coffeespoons," a hypochondria and T.S. Elliot-inspired romp, soars with gorgeous acoustic strumming, the trademark quirky harmonica playing of Ben Darvill, and the angelic backup vocals of keyboardist Ellen Reid. Songs like the album's title track, "Here I Stand Before Me," and "How Does a Duck Know?" are odd philosophical rockers, taking on everything from theism to Descartes. I credit these particular tunes for making my college philosophy courses bearable.
Elizabeth Moen

With a sultry and intoxicating voice, Elizabeth Moen lures you in. Paired with introspective lyrics that echo both bitter and sweet, her music will captivate you then stay with you. "Moen is one of those rare artists whose voice, from the first moment you hear it, consumes your entire being, doing away with all previous thoughts and concerns, and leaving you short of breath (The Culture Trip)."
On her sophomore LP A Million Miles Away, Moen tackles the complexities that coincide with the basic need for growth. At points lighthearted and somber, and even wry, her lyrics mirror what it's like to be alive: to wake up each day and attempt to balance the myriad of emotions that go along with being human. In "Triple Scoop" this all perfectly comes together in relation to the age-old problem of sweet, melting ice cream meeting concrete ("Triple scoop sorbet splattered on the sidewalk / Bit of cherry pie hanging off your lip / Why wipe it away, it's just you and me talking? You're the cherry on top of my double chocolate chip"). Throughout the album's eight songs, you are reminded that it's possible (and ok!) to feel broken and carefree, nostalgic and hopeful, to be utterly content but still have an incredible sense of longing.
Hailing from the small town of Vinton, Iowa located in the middle of the heartland, Moen taught herself how to play guitar as a teenager. It was peer pressure that caused her to write her first song and shortly thereafter, she immersed herself in the writing community of Iowa City while finishing up her studies in French and Spanish at the University of Iowa. Inspired by a mix of modern artists such as Alabama Shakes, Sharon Van Etten, Angel Olsen and Lake Street Dive (who she has supported), and older influences like Stevie Nicks and Joni Mitchell, Moen isn't locked into a single style.
On A Million Miles Away her songs shift fluidly; Opener "Red" and "Best I Can Do" portray the soulful side of her voice while "Triple Scoop" and "Matilda" recall folky, summer pop. "Don't Say I" and "Bad to Myself" pull in heavier tones, augmented by her 1968 Gibson ES-340, while the final tracks, "Time is a Shitty Friend" and "Planetarium," act as closing arguments for the album. The two tracks encapsulate aspects of each preceding track, at times both heavy and soft - equal parts whimsy ("Cuz I'm high and I'm reading about stars and shit") and sadness ("...and it's feeding / My thoughts about us together in some other universe"), while the echo of a longing to be "a million miles away" plays out.
A Million Miles Away follows Moen's 2016 (self-titled EP) and 2017 (That's All I Wanted LP) releases that took her on tour throughout the Midwest and Western United States alongside Europe. During this time she has acted as direct support for Lake Street Dive, Margaret Glaspy, Lucy Dacus, Becca Mancari, Houndmouth, William Elliott Whitmore (featured on her 2017 LP), Lissie, Buck Meek and has had her music placed in films including the Netflix original movie "Candy Jar." In support of her new album, Moen embarked on her first national headlining tour with dates in major cities including Chicago, New York City, Los Angeles, San Francisco, Portland, Denver, and Nashville.
Released September 1, Moen's new album is a testament to its theme: growth. A Million Miles Away is a moving, passionate exploration of internal and external change. In Moen's own words, "the base of the eight tracks revolves around the idea that there needs to be and will be growth. That can be for someone you love, for yourself, for a new relationship, or for closure from an old one. I've grown a lot writing these. I hope that these songs will make you feel that way or another too."