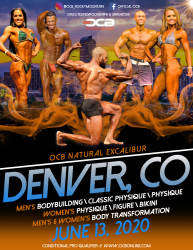 *** CANCELED ***
The OCB Natural Excalibur
Time: 10:00am Day: Saturday Doors: 9:30am Ages: All Ages / Bar with ID Price: $10 - $50
This Event Has Ended
The OCB Natural Excalibur is a natural (drug-free) competition. All competitors must meet eligibility criteria listed in the OCB drug testing guidelines in order to participate. Prior to registering, competitors should review the procedures and list of banned substances posted on OCBonline.com.  All competitors are required to be polygraph tested prior to competing. This keeps a fair playing field across the board.  In addition, all pro qualifying placement winners are required to provide a urine specimen immediately after the conclusion of the event for urinalysis.
Divisions offered at the OCB Natural Excalibur include:
Bikini: Teen, Debut, Novice, Age 50+, Age 40+, Open
Figure: Debut, Novice, Age 50+, Age 40+, Open
Men's Physique: Teen, Debut, Novice, Age 50+, Age 40+, Open
Men's Classic Physique: Debut, Novice, Age 40+, Open
Men's Bodybuilding: Debut, Novice, Age 60+, Age 50+, Age 40+, Open, Physically Challenged
Women's Physique: Debut, Open
Men's and Women's Body Transformation
Prejudging starts at 10:00am:  Show will run straight thru with a 30-minute intermission between pre-judging and finals (individual Presentations/Awards). 
Awards will be presented to the top 5 placement winners in each class. This is a Conditional Pro Qualifier Show. As a conditional pro qualifier (Pro Qualifier*), pro cards are awarded when divisions meet the required minimum turnouts. The minimums are: Open Divisions: 6 for all categories except Women's Physique, which is 3. Age 40+ Divisions: 3 for all categories.
Come get your dose of fitness inspiration from our men's and women's Body Transformation category, and cheer on these natural athletes who have prepared for months to slay the stage and earn Excalibur Swords and pro cards.  
For more information and competition registration, visit www.ocbonline.com – Events – Amateur Competitions and look for 6/13/2020 OCB Natural Excalibur – Denver, CO.  Any questions about the event can be directed to the show promoter at jseder17@yahoo.com and/or 505-604-9194.