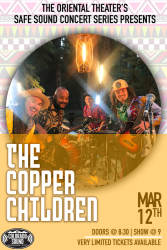 The O's Safe Sound Series & 105.5 The Colorado Sound Presents
THE COPPER CHILDREN
Time: 9:00pm Day: Friday Doors: 8:30pm Ages: All Ages / Bar with ID Price: $20
This Event Has Ended
The O's Safe Sound Series Presents: THE COPPER CHILDREN
The Copper Children 9:00 - 10:00
Our Bio:
We are here to curate an adventure inward and calibrate a celebration of all that is great.  With a soulful, rhythmic melody softly sweeping you to the dance floor, resistance is futile.
The Copper Children is a folk band from Denver blending original soul and psychedelic rock into a moving performance. Like a roller coaster, their "Psychedelic Gospel" experience leaves audiences feeling transported to the rail-yards of freedom.  Over the years the band has performed for audiences at Summer Camp, Northwest String Summit, Arise Music Festival, and elsewhere around the U.S. on national tours.
The Copper Children is driven by rhythm and good vibration. Each member came together with the intention of spreading love of the purest form as far as possible. Formed in July of 2015, they released their first album as a group in June 2016 called What We Are. It is centered around the bonding of the members and their sharing in the blessing that was the life of Caleb Jarosh, Elijah's brother, whom the album is dedicated with love. It is the foundation of the band's journey into their own sound.
Their third album Speaking in Spirits is a nine-track album written by The Copper Children and was released on April 19, 2019. The songs vary in style, genre and mood, ranging from heart-wrenching introspective to uptempo, four-on-the-floor jams. All of this music has been the soundtrack for the band's life for the past few years and much of what they sing about has already transpired in a strange and beautiful way. The album consists of all analog recordings, bringing a warmth and nostalgia that is integral to the experience of Speaking In Spirits.
Due in Early 2020, Their forth album will surely turn heads as it explores thumping singalongs reminiscent of the swampy south and suites within songs that adventure into other landscapes of sound only to return you back to the beginning.