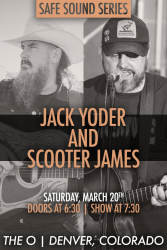 Jack Yoder w/ Scooter James
Time: 7:30pm Day: Saturday Doors: 6:30pm Ages: 18+ / Bar with ID Price: $15
This Event Has Ended
Jack Yoder

The Music Blog 40wattgigolo.com labeled award winning Jack Yoder "an undiscovered American Treasure". His Solo Shows work their way through Americana and finger-style Blues. 
Over the past couple of years (as a member of both the Rough Cuts and Ol' Hickory) he has opened up for such national acts as: 
Charlie Daniels 
Dwight Yoakum 
Shooter Jennings 
Asleep At The Wheel 
Whitey Morgan 
Wayne Hancock 
Deer Tick 
American Aquarium 
Uncle Lucius 
Michale Graves (The Misfits) 
The SuperSuckers 
Hellbound Glory 
Tim Barry 
Occasionally finding himself sharing the bill with bands outside the country and Outlaw Country Genres. Bands such as: 
Lit 
Buckcherry 
P.O.D. 
Alien Ant Farm 
He has recently released a string of  singles available on the New-Single-Release page (also available on iTunes, Amazon, Spotify etc.). Other recent releases include Western Abyss, Ryan Chrys and the Rough Cuts (2019), Scarecrow, Ol' Hickory (2015), a solo EP Music Flows North, on 40 Watt Records (2015) and the award winning independent release, Songs We Don't Know, Jack Yoder & The 2 Piece Suit (2012). 
This versatile Guitarist/Singer/Songwriter moved to Colorado in 2011 from New Orleans and now makes his home in Denver. Jack is a seasoned artist playing more than 100+ live shows a year. His original material is heavily influenced by Americana acts such as Robert Earl Keen, John Prine, Guy Clark, Hayes Carll, Steve Earle, The Turnpike Troubadours and The Drive By Truckers. Red Dirt acts, the likes of Reckless Kelly, Cross Canadian Ragweed and Stoney LaRue. And Blues artists such as Muddy Waters, Lightnin Hopkins and R.L Burnside.
In 2015 he started Georgetown Sound Recording Studio and followed that with the launch of Southbound Records in 2016 with the release of the first single (a cover of Hank Williams Six More Miles) by Jack Yoder & The Ramblin' Shakes. He is currently working on a new album of original material. Advance previews of some of these recordings can be streamed on the Snleak Previews Page